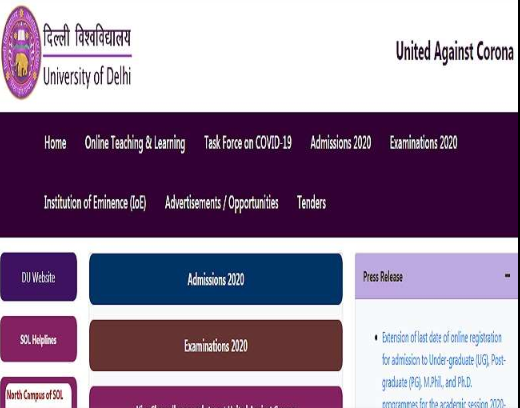 DU Admission 2020: For students who have not yet registered for admission to Delhi University, it is necessary and good news for them. Online registration deadline for various programs has been extended by DU under Admission 2020. Students who want to register for admission in UG, PG, MPhil and PhD courses have been given one more chance. As per an official notification issued by DU, the registration deadline for admission to all UG, PG, MPhil and PhD courses has been extended till July 18, 2020. Whereas, the last date for first application was set till July 4, 2020. Students can register online by visiting the official website of Delhi University, du.ac.in. 




Explain that this will be the last opportunity for the students who have not yet applied. At the same time, this time the entire admission process of Delhi University is being done online. The university has also made several changes in the admission process this year. Like sports trials, ECA category trials are not being taken. While the music trial will be through online medium. Changing stream of UG programs will not be deducted points. In addition, two new courses in PG- MSc Biophysics and Masters in Journalism have been added.
Also Read: India's COVID-19 Vaccine Trial "Marks Beginning Of The End": Centre




DU Admission 2020: (How to do Registration), DU Admission 2020: an online registration
For online registration for admission to Delhi University, students visit the official website, du.ac.in. 2020 Admission to the homepage, click on the link. Now UG, PG or MPhil / PhD, select the course in which to take admission and click. Now a new page will open. Go to New Registration here. Now register by filling out request went all the information. After this, complete the verification process with the code found. Now form more filling Asking went scanned copies of important documents. Pay the fees after the process is complete.