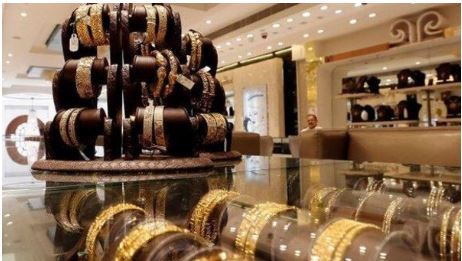 Gold prices in India today fell moderately, extending losses to the second day. On MCX, gold futures fell 0.06% to ₹37,900 per 10 gram, following a 1% decline on Monday amid softness in global rates. Gold prices have fallen from last month's highs of ₹40,000 and have remained choppy in recent weeks. Tracking gold, silver also softened to 0.3% to ₹45,906 per kg. In global markets, gold prices were flat today after a sharp fall in the previous session.
Spot gold prices were steady at $1,491.87 per ounce. The precious metal fell 0.8% on Monday as US stock markets hit record high on optimism over China trade-deal prospects.
Geojit Financial Services says gold faces resistance at $1500-1525 levels. Unexpected drop below $1472 would negate any bullish expectations and take prices lower, it added
Gold traders will also be watching the outcome of the two-day US Federal Reserve meeting starting today. Analysts expect a 25-basis-point reduction in interest rates from the Fed for the third time this year. Lower interest rates boosts the appeal of gold.
The risk sentiment got a boost after US President Donald Trump on Monday in a statement said Washington was ahead of schedule to sign part of a trade deal with Beijing. But he did not elaborate on the timing. Last week, Washington said it was "close to finalising" some parts of a trade deal. Asian shares also today hit a three-month high.
Optimism over US-China trade deal has kept gold prices in a range near $1,500 an ounce, say analysts. The 15-month-old trade war between the world's two biggest economies has hit financial markets.
In another development, the European Union on Monday agreed to a Brexit delay of up to three months.
Despite the recent rangebound movement, gold prices are up about 20% so far this amid worries over global growth and easing monetary policy by central banks. Another metal that has also stolen the spotlight this year is palladium, which traded near a record after topping $1,800 an ounce. It is up about 40% this year as stricter air-quality rules increased the demand for the metal used in vehicle pollution-control devices.
Still many analysts say that gold would be supported by geo-political uncertainties, sustained central bank buying and weak rupee against US dollar.
"We expect that positive momentum for gold could continue further, but the pace of rally could get measured as uncertainties related to trade war is taking back seat. This slowdown in major economies could push central banks to remain dovish for an extended period and that will support gold prices," said Navneet Damani of Motilal Oswal Financial Services, as quoted by Press Trust of India.
Back in India, jewellers expect gold demand to remain muted due to the price surge but momentum is expected to pick up on the back of wedding jewellery bookings.