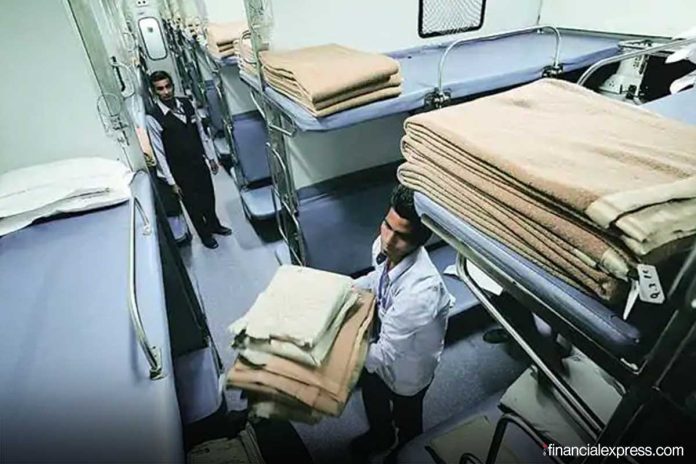 Indian Railways: The facility of free bedroll, which was closed during the Corona period, has not been started yet. In such a situation, the passengers asking will not get a free blanket in the train? But now if you want a bedroll kit, then you will have to pay 300 rupees, know….
Indian Railways: The facility of providing bedrolls to passengers in sleeper and AC coaches in many trains including Rajdhani was available before the Corona epidemic. But after the arrival of Covid, to prevent the spread of infection, the railways stopped providing bedrolls / blankets and passengers were asked to bring them with them from home and till now the free facility of bedrolls has not been started and till now So you will have to pay separately for this as well.
Now the winter season is about to come, so the demand for bedroll kits has also started increasing once again. But, till now Indian Railways has not started the facility of free bedroll in trains as before. It is being said that there is a churning phase going on in the Railway Board to make available free bedrolls to the passengers again in the train. In this matter, the Railways says that the facility of bedroll is still being reviewed and a decision will be taken in this regard soon.
 300 rupees will have to be paid for disposable travel bedroll kit
Indian Railways has started the facilities of trains for passengers on most of the routes amidst all the problems of the first and second wave of Corona. Amidst the Covid protocol, now about 95 percent trains have started running in the country and more than 90 percent of the berths are being booked. But as before, the facility of bedroll has not been started in AC coaches of Premium, Mail Express and Superfast trains as of now.
Talking about normal coaches, passengers are carrying their beds and sheets from home, while the facility of disposable travel bedrolls has been provided at the station for passengers traveling in AC coaches. Delhi Division has also started the facility of providing disposable bedrolls in five dozen trains running from here and for this facility, passengers will have to pay Rs 300, this service will not be free.
There are three types of kits in a paid bedroll kit
On Board On Demand Disposable Travel Bedroll Kits There are three types of kits available and you can pick them up as per your convenience. The first kit is of Rs 300 in which passengers will get non woven blanket, non woven bedsheet, non woven pillow, pillow cover, disposable bag, toothpaste, toothbrush, hair oil, comb, sanitizer sachet, peppersop and tissue paper.
The second kit costs Rs 150, in which passengers will get only one blanket.
On the other hand, there is a morning kit, which costs only Rs 30, in which passengers will get toothpaste, toothbrush, hair oil, comb, sanitizer sachet, paper soap and tissue paper.