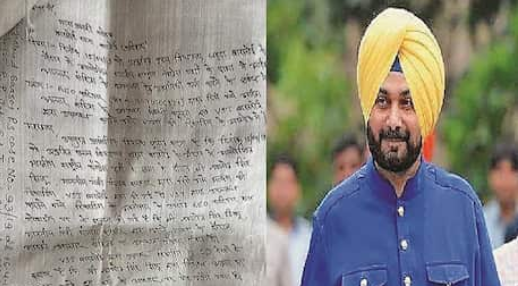 In the FIR filed on April 16, 2019, on June 18, two police officers from Barsoi Janardan Ram and Javed Alam have reached Amritsar to give notice to Sidhu.
Katihar. Katihar police, sitting outside the house of Navjot Singh Siddhu, a Congress leader and former minister of Punjab government for 7 days, also pasted the notice on their bungalow in Amritsar (Amritsar) on June 24. A police team wants to meet him in the case of making provocative speeches and wants to get him signed on Bell Bond, but Sidhu has been avoiding coming to Bihar Police since 18 June. The Katihar police told in this context that if Sidhu did not appear till June 26 and did not sign the bail bond, the police could apply for an arrest warrant against him.
According to Katihar SP Superintendent Vikas Kumar, the investigating officers Janardan Ram and Javed Alam have been sent to Amritsar to investigate the same case, but Sidhu has not received summons. However, on Wednesday, the police has also pasted the notice at his residence. However, News18 has obtained a copy of the FIR, due to which Sidhu is running away. Let us know when and who registered a case against Sidhu and what action can be taken?




Also Read: TikTok Star Siya Kakkar Suicide: Siya Kakkar was getting threats! Call details can reveal the death knell
Let me tell you that during the Lok Sabha elections on 15 April 2019, I addressed the public meeting in favor of Congress candidate Tariq Anwar at the Datta High School Dhatta of Barsoi police station. Meanwhile, a case was registered on 16/4/19 at Barsoi police station on the basis of a video provided by the magistrate VST (VST), who supervised the venue, against addressing the election rally using words associated with religious sentiment.




In Barsoi Rural Works Department, Assistant Engineer who was responsible to the Magistrate in this House, on his application, a case was registered in Barsoi police station under Case No. 93/19 Section 123 (III) and 125 RPACT. In the light of the FIR lodged on April 16, 2019, on June 18, two police officers from Barsoi Janardan Ram and Javed Alam have reached Sidhu's house in Amritsar to give notice. On June 26, these two officers of the Katihar Police will return to Katihar from Amritsar and give detailed information to their SP about not taking or taking notice by Sidhu. After this, the Katihar police will consider the points ahead.