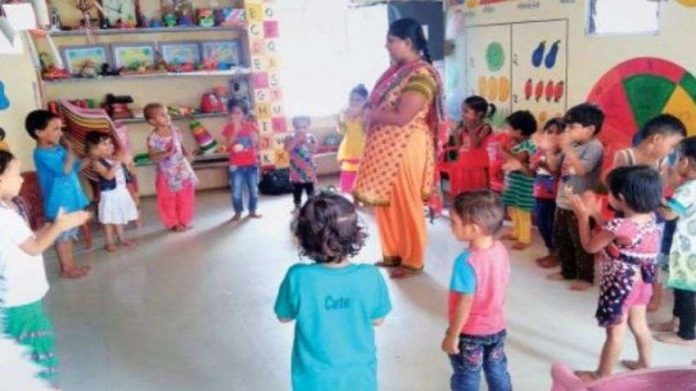 UP News: In Uttar Pradesh, more than 50 thousand posts are vacant for Anganwadi workers.
In Uttar Pradesh, more than 50 thousand posts are vacant for Anganwadi workers. Recently, the rules of Anganwadi recruitment process have been changed. Under this, it has been made mandatory to have a woman officer in the selection committee to be made for their selection. Also, in the selection merit list that will be prepared, the first preference will be given to the family member living below the poverty line. However, in the selection process of Anganwadi workers and assistants, the qualifications have been kept as before.



This is how the merit list will be made
The selection on these posts will be on the basis of merit list. While making merit list, marks received in 10th, 12th and Graduation will be added. At the same time, if the applicant has any degree even after graduation, then his marks will not be added.
This is the age limit
The age limit of the candidates applying for these posts should be between 21 and 45 years. While the maximum age limit has been set for selection of Anganwadi worker from assistant to 50 years. Only women who have worked for the post of sahayika for five years can apply for the post of executive..




Also Read: Banking News: If you are a customer of Allahabad Bank, then take care, do Net Banking here from February 14
Know the selection process
The format of the application form will be prepared by NIC. Which will be sent to all districts. After the application is published, the selection process will be completed in 45 days. Candidates should pass 10th or equivalent examination for appointment of workers at Anganwadi and Mini Center in the state. At the same time, the minimum educational qualification for assistant position (fifth) has been kept at fifth.
Only those living below the poverty line will be selected on these posts. For the selection of Anganwadi workers, the income limit of poverty in urban areas has been fixed at Rs 56460 and for rural areas, the income limit for poverty is Rs 46080. This will be a great opportunity for those candidates who have been waiting for Uttar Pradesh Anganwadi Vacancy 2021 for a long time.