JNN, Mala Dixit. The Supreme Court on Wednesday refused to consider the petition seeking to change the country's English name to India. The court said, 'India' has already been called 'India' in the Constitution. However, on the petitioner's request, the court said that the government would consider the petition like a memorandum. In this petition, there is a demand in the Constitution to change the name of the country to 'India' and the court has been requested to direct the center in this regard. Let us know that the matter was to be heard in the court on Tuesday which could not happen due to the absence of Chief Justice SA Bobde.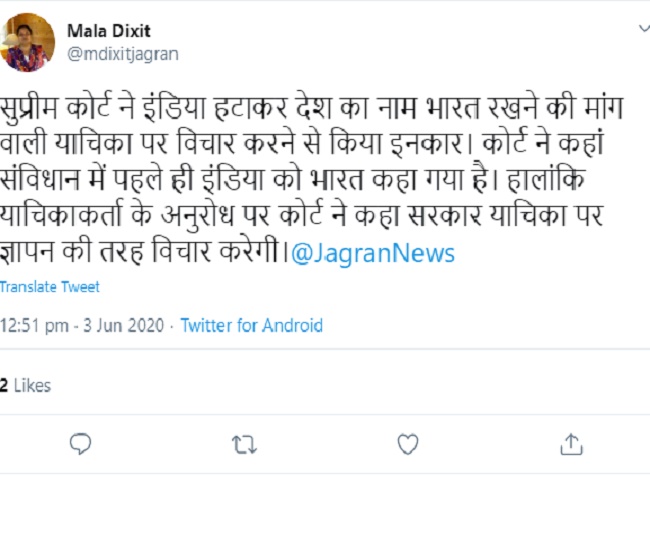 The name 'India' symbolizes slavery

This petition has been filed in the court on behalf of a Delhi farmer named Namah and has demanded a change in article-1 of the constitution. The case will be heard by the Chief Justice SA Bobde. Namaha, who filed the petition, says that 'India' should be removed and renamed 'Bharat' as the name India signifies the slavery of the British. By changing the name of the country to English, India will increase national sentiment and the country will get a different identity. Namah, who filed the petition, said that in ancient times the country was known as India. After independence, the name of the country in English was changed to 'India', hence the real name of the country 'India' should be recognized.
Also Read: Kashmir Militancy: Pakistan's Taliban conspiracy, preparations for infiltration of 20 dreaded terrorists




In 2016, the top court dismissed a petition. The then Chief Justice TS Thakur had said that every Indian has the right to take the name of the country as per his choice, whether he says 'India' or 'Bharat'. The Supreme Court has no right to decide for this. He had said, 'If someone wants to say India, then say India, and if India wants to say India, the name of the country should say India. We will not interfere in this.
The issue was also raised in 1948 




The name 'India' was also opposed in the 1948 Constituent Assembly a year after independence. According to the petitioner Namah, the British used to call slaves Indian. He named the country India in English. On 15 November 1948, M. Ananthasayanam Iyengar and Seth Govind Das, while arguing on the draft Article 1 of the Constitution, strongly opposed the name of India in English. He suggested the names Bharat, Bharatvarsha and Hindustan in English instead of India. But that time was unnoticed. Now the court should direct the Central Government to rectify this mistake.