Will Shilpa Shetty Take Divorce From Raj Kundra: Shilpa Shetty has shared something on social media, after which speculations are being made about her and Raj Kundra's divorce.
New Delhi: Bollywood actress and fitness icon Shilpa Shetty's husband and businessman Raj Kundra is imprisoned in a pornography case these days. In the past, a 1500-page chart sheet has been filed in the court on this matter. In which the statement of Shilpa Shetty is also present. Now after this a post by Shilpa Shetty has created a sensation on social media. People are considering this post as a sign of the decision of Shilpa Shetty's divorce.
On 'Bad Decisions' and 'Brand New Endings'
Actually, Shilpa Shetty has shared the page of a motivational book in her Instagram story on Friday. This page shows a view on 'Bad Decisions'. Not only this, another word has been talked about with 'bad decision', that is 'brand new ending'. The eyes of his fans are fixed on this ending word.
What is written in this post
The page of the book uploaded by Shilpa Shetty, titled 'New Endings', reads, 'In analyzing the bad decisions we made, the mistakes we made, the friends we hurt,' Can take a lot of time. If only we were smarter, more patient or just better. We cannot change the past, no matter how much we analyze it.'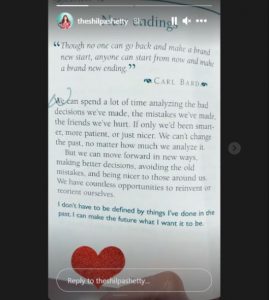 About making the future your own
This page shared by Shilpa Shetty further reads, 'But we can move forward in new ways, make better decisions, avoid old mistakes and be good to the people around us. We have many opportunities to rediscover or rediscover ourselves. I don't need to be defined by things that I have done in the past. I can make the future according to me. Let us tell you that Shilpa Shetty has not put any caption on her behalf in this post. Just sharing it, he has put a sticker of a red heart.
Speculation of divorce
Now in the words written in this post, where the matter of changing the future came to the fore, social media users have started speculating about the decision of Shilpa Shetty's divorce. This post is now visible on many fan pages where it is being claimed that Shilpa is going to divorce her husband Raj. Although Shilpa has not said anything about this till now.