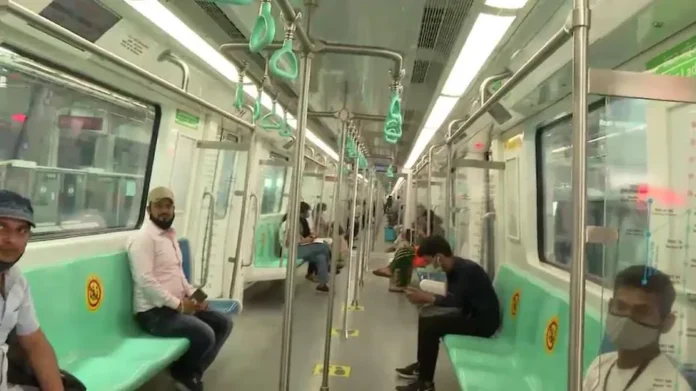 The Aqua Line Metro running between Noida-Greater Noida has been given a special gift to the people. Small and big celebrations including birthday can be done in the coach of Noida Metro. However, for this you will have to loose your pocket.
Metro train has been your companion between home and office till now, but now you can also celebrate birthday in metro. Noida Metro Rail Corporation has given a special gift to the people for its Aqua Line Metro running between Noida-Greater Noida. In Noida Metro, now you can do any celebration with a gathering of 50 people including birthday, wedding anniversary.
For any celebration in the metro, you will have to deposit the fixed fee . This fee will be charged on time basis. Meaning the longer you want to stay in the metro, you will have to pay the fees accordingly. At present, this price will be between Rs. 5-10 thousand. One can also book more than one coach. Different amount will also have to be paid for decorated and undecorated coaches in the metro. Apart from this fee, you will have to pay 20 thousand rupees as security, which will be fully refundable. Apart from the day, you can also party in Noida Metro between 11-2 pm, although at this time the train will be standing at the depot.
There will also be arrangements for food and drink.
Noida Metro is ready to make all the arrangements to make this new scheme a success. Noida Metro will also arrange for catering, that is, you can order food and drink. Noida Metro will soon select the vendor for this.
It has been almost three years since the Noida Metro started trying to recover from the loss , but two of these years were due to the Corona epidemic. During this, there was a very bad effect on the earnings of Metro. It has improved after Kovid. Now the number of passengers traveling from Noida Metro to Greater Noida has reached about 30 thousand per day. Nevertheless, in order to increase the earnings of the metro, NMRC has now prepared a plan to rent metro coaches running on the Noida Greater Noida Metro route and the seminar hall built in Greater Noida Depot on rent for private events.

NMRC MD Ritu Maheshwari says that now the situation is better than ever in terms of earnings. Now the metro has to be popularized, revenue has to be increased and more and more people have to be connected with the Noida Metro. People do birthday parties, but people will get a different experience of partying in the metro. For booking, people can visit the official website of Noida Metro www.noidametro.com.