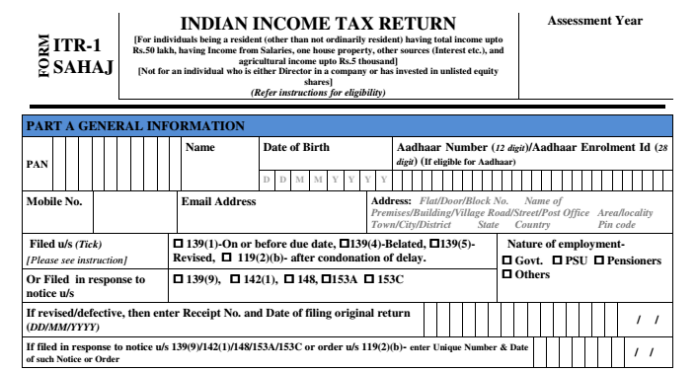 Income Tax Return: Income Tax Return- 1 Form or Sahaj is one such form, which is widely used for filing returns.
Income Tax Return Filing: Income Tax Return (ITR) declares the taxable income of the income tax payer and the deduction of taxes paid to the Income Tax Department.
Every year, individuals, businesses and other entities whose income exceeds a minimum threshold set by the government have to file their income tax returns. The due date for filing the return depends on the type of taxpayer and the nature of their income.
After filing the income tax return, the income tax department verifies the details provided by the tax payer and calculates the amount of tax due. If the tax payer has paid tax in excess of the dues, he is given a refund. If the tax payer has paid less, then he is paid the outstanding amount.
There are seven types of ITR forms, which are used for different tax payers according to the income and type of individuals. ITR-1 or Sahaj is one such form, which is widely used for filing returns.
Who can file ITR-1 Sahaj Form?
As per the IT department, ITR-1 can be filed by a resident individual whose:
Total income during the financial year does not exceed Rs.50 lakh
Income is from salary, one house property, family pension income, agricultural income (up to Rs 5000) and other sources, which include:
Interest from savings accounts
Interest from Deposit (Bank/Post Office/Cooperative Society)
Interest from income tax refund
Interest received on enhanced compensation
Any other interest income
Family pension
The income of the spouse (other than those covered under the Portuguese Civil Code) or that of the minor is added (only if the source of income is within the specified limits mentioned above).
Who is not eligible to file ITR-1?
ITR-1 cannot be filed by any person who:
A Resident Not Ordinary Resident (RNOR), and Non Resident Indian (NRI)
Total income exceeds Rs 50 lakh
Agricultural income is more than Rs.5000
Income from lotteries, horseraces, legalized gambling etc.
Have taxable capital gains (short term and long term)
Invested in unlisted equity shares
have income from business or profession
is a director in a company
Tax deduction under section 194N of the Income Tax Act is
Being a qualified start-up, there is deferred income tax on the ESOP received from the employer.
owns more than one house property and has an income
Not covered under eligibility conditions for ITR-1
Income that is not mentioned in ITR-1?
The following types of income will not form part of ITR-1:-
Profits and gains from trade and businesses
capital gains
Income from more than one house property
Income under other sources which are as follows:-
winning the lottery
Income taxable at special rates under section 115BBDA or section 115BBE
Income to be apportioned as per the provisions of section 5A
Documents required to file ITR-1?
Form 16, House Rent Receipt (if applicable), Investment Paid Premium Receipt (if
applicable) are required. ITRs are attachment-less forms. Hence there is no need to
attach any document (like proof of investment, TDS certificate) with your return
(whether filed manually or electronically). These documents need to be kept for situations where they need to be produced before the tax authorities, such as valuation and enquiry, etc.
How to file ITR-1 online?
Pre-filing and filing of ITR-1 service is available to registered users on the e-filing portal. This service enables individual taxpayers to file ITR-1 either online through the e-filing portal or by accessing the utility offline. This user guide covers the process of filing ITR-1 through online mode.
There are five sections in ITR-1 which you need to fill before submission and a summary section where you need to review your tax calculations. Whose sections are as follows:
Personal Information
Gross total income
Total deduction
Tax payment
Net tax liability