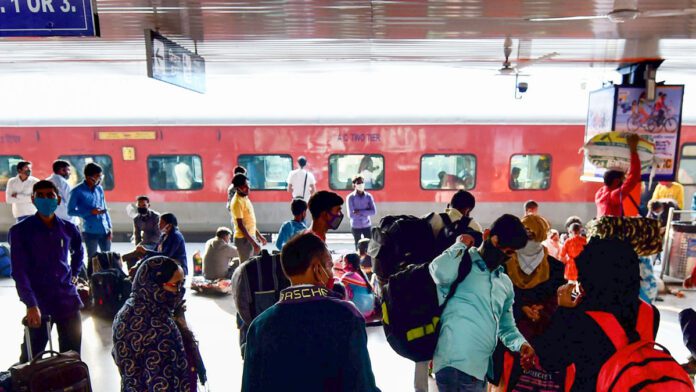 Free Travel in Train: Many types of facilities are provided to the passengers by the Indian Railways, but today we will tell you about such a railway train, in which you can travel for free (Free Train Travel). This train has been making people travel for free for the last 74 years.
Indian Railways Update: Many types of facilities are provided by the Indian Railways, but today we will tell you about a railway train in which you can travel for free. This train has been traveling for free to people for the last 74 years, but very few people know about it. Let us tell you which train is this and on which route you can travel through this train.
On which route does the train run?
The name of this railway train is 'Bhagda-Nangal train'. This train operates on the border of Punjab and Himachal Pradesh. This train is run by Bhakra Beas Management Board between Nangal and Bhakra. If you also have a plan to visit Bhakra-Nangal Dam, then you can enjoy traveling for free in this train.
When was the train started
According to the website of Indian Railways, this train was started in the year 1948. When the Bhakra Nangal dam was being built, there was a need to operate this train at that time. Bhakra-Nangal train covers a distance of 13 kms through Shivalik hills with consumption of 18 to 20 liters of diesel per hour

800 passengers travel every day
every day, about 800 passengers travel in this train every day. During the journey in this train, there are many small villages on the way where people travel in them. Employees, tourists and school students also travel in this.
How are train coaches made?
This train runs on diesel engine. In a day, 50 liters of diesel is consumed in this train. Once its engine starts, it shuts down only after coming back from Bhakra. There are also wooden benches for sitting inside it. Through this train, the people of the nearby villages of Bhakra, Barmala, Olinda, Nehla, Bhakra, Handola, Swamipur, Kheda Bagh, Kalakund, Nangal, Salangadi, Lidkot, Jagatkhana, Paroiya, Chugathi, Talwara, Golthai have a convenient way of coming here. It is only a means.
What is the train schedule
This train leaves Nangal at 7:05 in the morning and at around 8:20 this train comes back from Bhakra towards Nangal. In the afternoon, once again at 3:05, it leaves Nangal and at 4:20 in the evening, it comes back to Nangal from Bhakra Dam. The train takes approximately 40 minutes to reach Bhakra Dam from Nangal. When the train was started, 10 bogies used to run in it, but now it has only 3 bogies. In this train, one compartment is reserved for tourists and one for women.