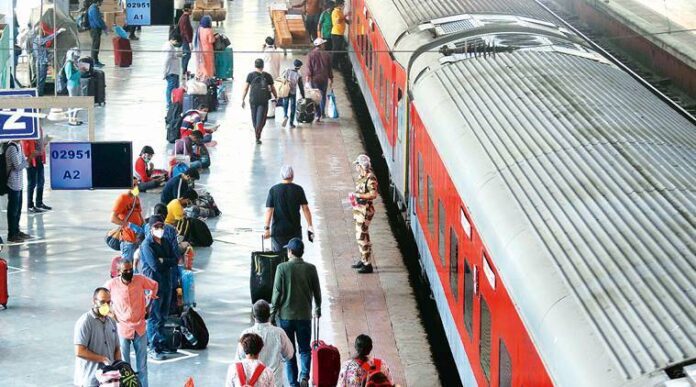 Northern Railway has given great news to the passengers traveling by trains. Now the tickets for trains will become cheap like before the Covid period. This facility is starting from 10th December, after which train tickets will become cheaper.


Indian Railways/IRCTC: Like before the Corona period, Indian Railways is now trying to get back on track. During Kovid-19, the railways had also made unreserved coaches to be installed in trains reserved, due to which passengers could not travel without a reserved ticket. But now the Railways is going to end this system as well. According to the Railways, now the sale of unreserved tickets for long journey trains will also be started soon. By which passengers will be able to travel in unreserved coaches by buying unreserved tickets. This will reduce the fare of trains.
Big Decision of Northern Railway
After this decision of the Railways to start again, traveling in unreserved coaches will become cheaper than before. Let us tell you that to travel in the unreserved compartment of trains during Corona, passengers had to book tickets a day in advance. Along with this, its rent was also comparatively high. But, after this decision of Northern Railway, passengers will be able to travel in unreserved coaches by paying less fare as before.
In fact, during Kovid, passengers had to pay extra charges for booking seats in unreserved coaches, due to which the price of train tickets increased.
These facilities are starting from December 10

Northern Railway has said that from December 10, 31 long-distance trains can travel on unreserved tickets as well. Keeping this decision in mind, Northern Railway is increasing the number of unreserved coaches in these trains as before. Along with this, the concerned passengers will also be able to travel with unreserved tickets in the coaches reserved for Divyang and women.
Facility will start in these trains-
Hemkunt Express
Dehradun-Amritsar Junction- Dehradun Express
Jammu Tawi – Varanasi – Jammu Tawi Express
Hoshiarpur-Delhi-Hoshiarpur
Chandigarh-Prayagraj Sangam- Chandigarh Express
Fazilka-Delhi Junction-Fazilka
Unchahar Express
Amritsar-New Delhi-Amritsar
Daulatpur Chowk-Delhi Junction-Daulatpur
Bareilly-New Delhi- Bareilly Intercity
Bareilly-Varanasi-Bareilly Intercity
Bareilly – Prayagraj Sangam – Bareilly Passenger
Dehradun-Varanasi-Dehradun Express
Dehradun-Delhi Junction- Dehradun Mussoorie Express
Delhi Junction- Pratapgarh Junction- Delhi Junction Padmavat Express
Yog Nagri Rishikesh Express
Jalandhar City – New Delhi – Jalandhar City Express
New Delhi-Lohia Khas Junction-New Delhi Sarbat Da Bhala Express
Moga Intercity
Prayagraj Nauchandi Express
Varanasi Junction-Lucknow-Varanasi Junction Superfast Shuttle Express