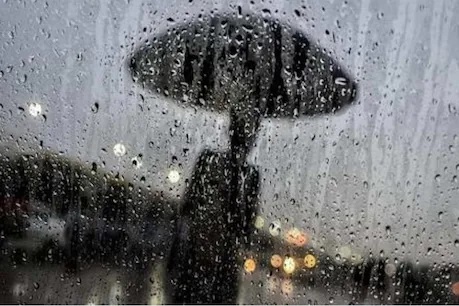 After Sunday, changes in the weather can be seen in Madhya Pradesh, Gujarat and Rajasthan including the capital Delhi.
On one side across the country, due to Cyclone Asani , there is a change in weather conditions in Orissa, West Bengal, Andhra Pradesh, Jharkhand . At the same time, according to IMD Alert, a heat wave alert has been issued in North Central India till Sunday. However, due to the slowing down of the cyclone, an increase in temperature may be recorded once again. Earlier, a rain alert was issued in 14 states. At the same time, the rains are continuing in the eastern and southern states as well. One to two percent increase in temperature is being recorded in the hill state.
After Sunday, changes in the weather can be seen in Madhya Pradesh, Gujarat and Rajasthan, including the capital Delhi. The hope of getting relief from the scorching heat in the national capital is once again visible. In fact, the heat is increasing in Delhi. The Meteorological Department had issued a heat wave warning from Friday. However, after 3 days, there is a possibility of changing the weather in Delhi again. According to the Meteorological Department, the minimum temperature in Delhi has been recorded at 29 degrees.
At the same time, till May 14, heatwave havoc can be seen in some areas of Madhya Pradesh and Rajasthan. After May 15, there will be changes in the weather in many areas. At the same time, due to the active western disturbances once again, after May 14 to 15, there will be relief from heat in many areas of Madhya Pradesh, Chhattisgarh, Rajasthan, Gujarat .
Meanwhile, Storm Asani is expected to move northwestwards and reach west-central Bay of Bengal near Kakinada and Visakhapatnam coasts by Thursday morning. According to IMD, thereafter, Asani is expected to turn north-northeastwards gradually and move along Andhra Pradesh coast between Kakinada and Visakhapatnam.
Asani is very likely to weaken into a cyclone by Thursday morning and become a depression by the morning of May 12, but before that there is a possibility of heavy rain and very strong thunderstorms along and off Andhra Pradesh and Odisha coasts. Asani is about 210 km south-southeast of Kakinada (Andhra Pradesh), 310 km south-southwest of Visakhapatnam (Andhra Pradesh), 530 km south-west of Gopalpur (Odisha) and 630 km from Puri on Tuesday afternoon (Odisha). km was centered to the south-west.
The India Meteorological Department (IMD) said that many parts of Andhra Pradesh, Odisha and West Bengal are preparing for heavy rains, as severe cyclone Asani weakened into a cyclonic storm on Wednesday, gusting up to 85 kmph. With wind speed, it is moving towards North Coastal Andhra Pradesh.
The storm is very likely to move almost northwards for the next few hours and away from north Andhra Pradesh coasts by night and then gradually move north-northeastwards along Narasapur, Yanam, Kakinada, Tuni and Visakhapatnam coasts on Wednesday afternoon. By evening, it is very likely to emerge over west-central Bay of Bengal.
Heat wave alert
The India Meteorological Department (IMD) has forecast heatwave conditions in isolated parts of South Haryana, Delhi and South Punjab from May 12 to 16. At the Safdarjung weather station, which provides a marker for the city, the maximum temperature is likely to hover around 43 degrees Celsius on Thursday. Sky is forecast to remain clear for the day.

On Wednesday, the maximum temperature was recorded at 41.4 degrees Celsius, two notches above normal. The city also recorded a warm night in the last 24 hours with the minimum temperature at 29.5 degrees Celsius, four notches above the normal temperature at this time of the year. The maximum temperature was recorded higher on Wednesday in other weather observatories of the city.
Najafgarh recorded a maximum temperature of 43.3 degrees Celsius, while the Commonwealth Games Complex in East Delhi recorded a maximum temperature of 42.2 degrees Celsius. Gurgaon also crossed 43 degrees Celsius on Wednesday, with a maximum temperature of 43.2 degrees Celsius. Heat wave conditions were recorded in parts of West Rajasthan and West Madhya Pradesh on Wednesday.
High alert in Andhra Pradesh:
The Andhra Pradesh government has sounded a high alert in all the coastal districts, while the Odisha government has issued a similar alert in five southern districts of Malkangiri, Koraput, Raigad, Ganjam and Gajapati. According to a bulletin from the Cyclone Warning Center at Visakhapatnam, the cyclonic storm was centered 30 km east-southeast of Machilipatnam in Krishna district, 50 km southwest of Narasapur district and 120 km southwest of Kakinada.
According to the scientists, the model predictions were looping, indicating a significant level of uncertainty about Asani's path. The track has now changed. Between Kakinada and Visakhapatnam, Asani will touch the coast of Andhra Pradesh and move on. Asani is now expected to reach the coast on Wednesday morning.
Anand Kumar Das, head of the cyclone monitoring division of the Meteorological Bureau, said the impact may not be severe, but people should be prepared. The system was moving at a slow pace, but it was expected to decelerate." However, over the course of several hours, it shrank in size, allowing Asani to maintain its energy and intensity. Model predictions have begun to roll in, indicating a significant level of track uncertainty. It means that anything can happen. "Red warning has now been issued for Andhra Pradesh coast," he said.
The IMD has warned that the storm is expected to hit about 0.5 meters above the astronomical tide in the low-lying areas of Krishna, East and West Godavari and Visakhapatnam districts of Andhra Pradesh. From the night of May 11, moderate to severe rainfall is very likely over Coastal Andhra Pradesh and Odisha, with heavy to very heavy rainfall at isolated places.