Driving Licence Application Status Know your DL Status Find RC/DL sarathi.parivahan.gov.in check by name Driving License Status of All States Know DL Status by Application number.
Friends as you know. The government has recently issued new traffic rules and has also increased the fine manifold. That's why these days, there is a long line of people getting and renewing their driving license in the RTO office. All this is because of the fear of fines under the new Motor Vehicle Act.
List of Driving Licence Status that may be provided
The following is a list of the applications you have submitted for driving licence then check your driving licence status :
New Driving Licence
Driving licence application status
Renewal Of DL
Additional endorsement to DL
Change of address in DL
Issue of duplicate DL
Replacement of DL
Change of date of birth in DL
Change of name in DL
Change of biometrics in DL
International drivng licence
In such a situation, there are many applicants who have applied for driving license but they are not able to check its status. If your driving license has not come yet, then today on this page we will tell step by step the complete process of checking the status of driving license and its information. You can also get this information by visiting the concerned Regional Transport Office (RTO).
First for those people who have applied for driving license for the first time but have not got driving license yet and want to know its status by application number.
Second, for those people who have a driving license and want to see its information and last date etc. from the driving license number.
Driving license application status
If applied for your driving license but don't know the status? So you can check Driving License Application Status online by the following procedure .
First of all you can visit the website of Ministry of Road Transport & Highways Parivahan.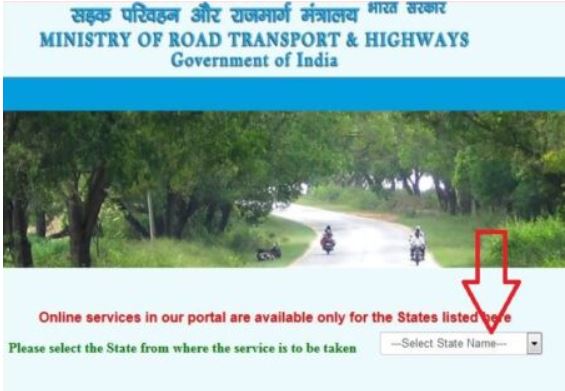 On the main page, you have to select the state from which you have applied for DL. And go ahead.
On the next page you get a table of options as you select the state.
On your left hand side, under "Driving License", expand the options by clicking on "Apply Online".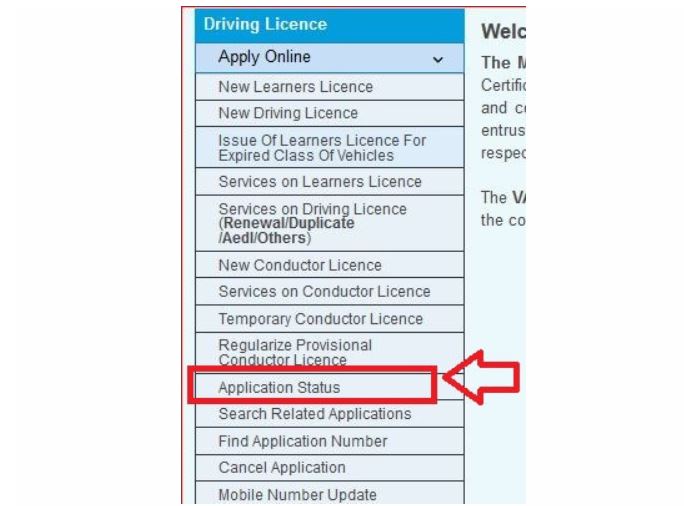 Now select "Application Status" from the new options.
When you select "Application Status", you will be asked to enter Application Number and Date of Birth, and click on "Submit".

After submitting the information, you will see the status of your driving license application on the screen.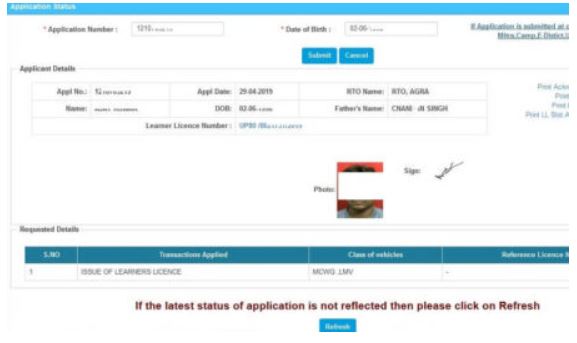 Note: – Driving License Number can be entered in any of the following format: DL-1420110012345 or DL14 20110012345 The total number should be 16 (including '-'). If you hold an old driving license with a different format, please change the format as per rules before entering. For example: If driving license number is RJ-13/DLC/12/123456 then please enter RJ-1320120123236 or RJ13 20120123456.
Procedure of Check Driving Licence Status
The information of most of the states will be known from the process given below. But, you can also check the Driving License Status informationon the official website of the specific transport department of your state.
First of all you have to go to the website of the transport service Know your DL Status .
Know your DL Status
After that you will get Know your DL Status page. Here you have to enter your Driving License No, Date of Birth, and Verification Code.
You will get to know the status of driving license as soon as you click on check status.
Apart from this, if you want, you can also visit the Sarathi website Status of DL Number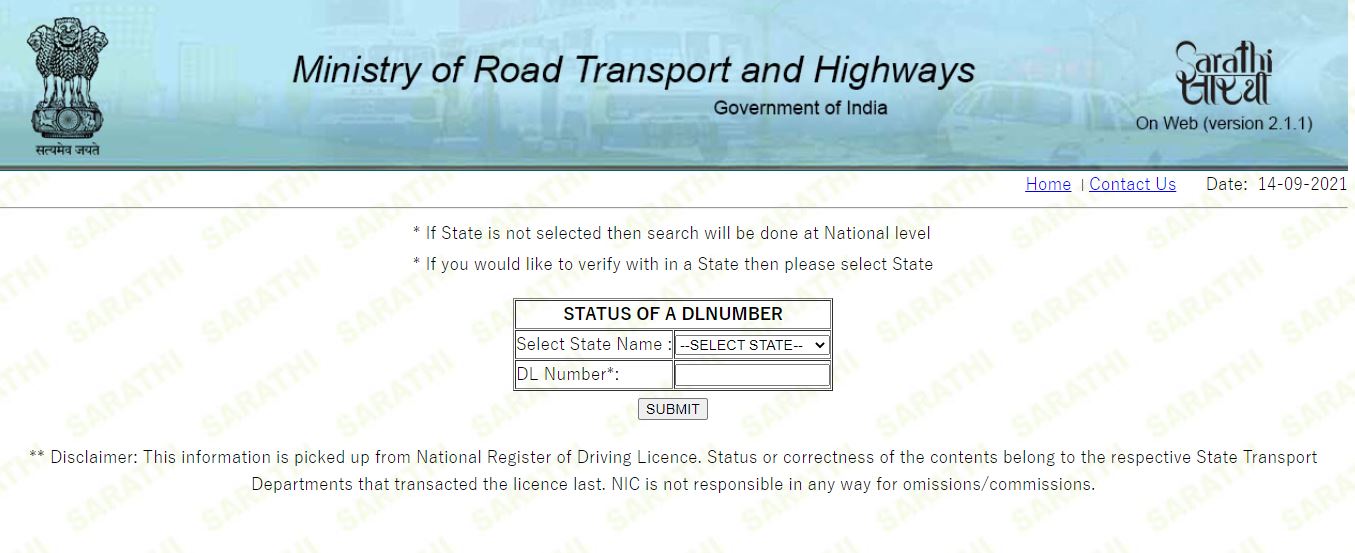 Here also you have to enter your state name and your driving license number.
After submitting you will be able to see your DL Status in the next page.
So friends, we have given you two information on this page. First, how to check the status of your driving license application? And secondly how to know the status and information of your driving license? You can find out from both the above procedure. Hope you enjoy the information here.