Chandigarh, The state government is not in any mood for any concession in view of the growing case of Corona in the districts of Haryana in the National Capital Region (NCR). The Haryana government has tightened further after sealing all the boundaries of Delhi. With this, the government has sent a high power committee to Gurugram, Faridabad, Sonipat and Jhajjar districts, which will submit a detailed report of the entire situation to Home and Health Minister Anil Vij. Since the lockdown-four is till 31 May, it will remain strictly for the same period. If the central government imposes lockdown-five, then the Haryana government will keep this strictness and no common man from Delhi will be allowed to enter Haryana.
According to the MHA's guide line, this strictness will remain intact till May 31, if the lockdown is increased.
Haryana Home and Health Minister Anil Vij had written a letter to Home Secretary Vijayvardhan and ordered to seal the borders of Delhi. These orders of the Home Minister were implemented. Its effect is also visible from Saturday morning. Delhi-Gurugram, Delhi-Faridabad, Sonepat's Kundli Border and Bahadurgarh Tikari Border are extremely hard since morning. In Jhajjar, the border with Delhi is very strict.




Barring doctors, lawyers, para medical staff, nurses, health workers, ambulances and sanitation workers, no person was allowed to enter the border from Delhi to Haryana. The essential services that have been described as essential in the guidelines of the Union Home Ministry (MHA) are not being allowed to be interrupted.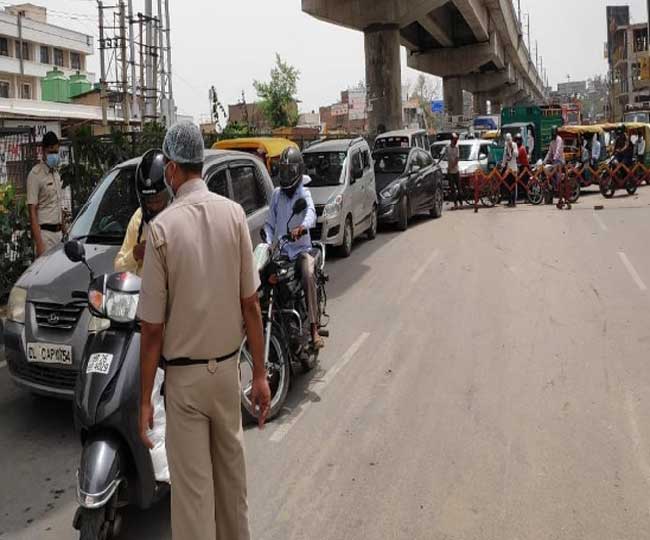 Vij sent a high power committee to assess the situation in four districts of Haryana adjacent to Delhi.
In an interview with Jagran, Anil Vij told that Haryana will fully comply with the MHA's guide line. Haryana has also followed every guide line of the MHA in the past. That is why we have a lot of control over the corona here.   
Essential services will not be interrupted, Delhi High Court verdict will be implemented, but not entry of common man
He said that due to the strictness that Haryana has to do on the border of Delhi, the main reason is that people are getting infected from there and coming to Haryana. This led to increased Corona cases in four districts of Haryana adjoining Delhi, Faridabad, Gurugram, Sonipat and Jhajjar. 400 cases have been reported in Gurugram alone, 300 in Faridabad, 300 in Sonipat and about 200 cases in Jhajjar district. The remaining districts are such that there are 50 or less cases.
According to Anil Vij, in the guide line issued by MHA, those who were asked to give exemption, we have given them exemption. This case also went to Delhi High Court. We have given exemption to the categories which the Delhi High Court asked to be exempted, but no exemption has been given for the arrival of common man anywhere. The exemption for the common man is neither in the MHA's guide line nor the Delhi High Court has given any such direction. Therefore, the action of the Haryana government is entirely legitimate.
Business will be saved if Haryana is left, first state for us
Anil Vij said, "We have no worries about the business relationship between Delhi and Haryana." If Haryana is safe, business can also be run. We cannot put the people of Haryana in danger to start a business. First of all, we can save our state, it is our duty as well as religion. MHA has a guide line not to allow inter state movement. We are following the same




Also read: Delhi-Gurugram border: Traffic pressure on Delhi-Haryana border increased from 8 am, jammed
Strictness will increase based on the report of the High Power Committee
According to Home Minister Vij, a high power committee headed by Health Secretary Rajiv Arora has gone to inspect the districts of Haryana adjoining Delhi. This committee includes Dr. Surajbhan Kamboj, Director General of Health, Haryana. This committee will soon submit its report. If the committee finds the situation to be worse then it will have to do more rigorously on the basis of its report and if it is recommended to be relaxed then it will also be considered. Vij claimed that Haryana is ready to deal with any worst-case scenario. If we do not tighten the boundaries of Delhi, then the condition of Haryana will also be similar to Delhi.




Containment zone duration will be reduced to 14 days
Vij has sent a proposal to the Union Health Minister Dr. Harsh Vardhan to extend the period of the Containment Zone to 14 days instead of 28 days. The duration of 28 days is very long. If 27 days are completed in a containment zone and a corona case comes out on the 28th, then the rule is that the area will be declared as a containment zone again for 28 days. The Union Health Minister agrees with Haryana's suggestion and has assured them to take a decision after talking to the authorities.