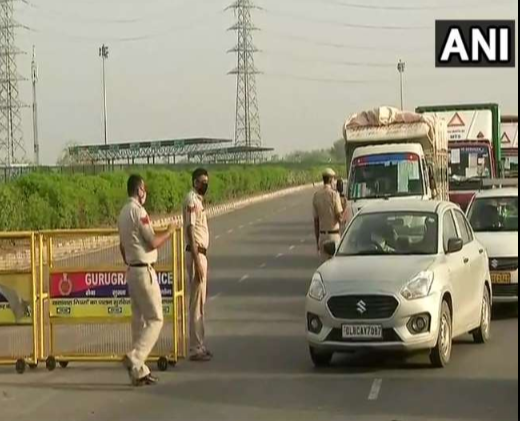 New Delhi / Gurugram, JNN. LockDown Day 4 Delhi-Gurugram border: Due to the sealing of the borders of Haryana along with UP adjacent to Delhi, the livelihood of thousands of people has become a cloud of crisis. On Saturday morning too, there were long queues of vehicles due to heavy checking at the Delhi-Gurugram border. Following the order of the Haryana government, the police personnel are allowed to cross the border only after seeing the pass and identity card issued by the department concerned. 




Earlier on Friday, there was traffic pressure throughout the day at the Sirhol border, Kapashera border and Aya Nagar border. According to the order of the state Home Minister Anil Vij, Gurugram Police increased the vigor on all the points in the border areas from Friday morning. Due to this, traffic jams continued throughout the day at Sirhaul Border, Kapashera Border, Salapur Border and Aya Nagar Border. On the day before the lockdown, during the peak hour, the pressure of traffic on the Sirhol border was created, the same pressure was seen on Friday. Jam was reached for one kilometer from Sirhaul border towards Delhi. This caused a lot of trouble to the drivers. As usual, on Friday, thousands of workers reached Kapashera border to work in Udyog Vihar area, but the policemen did not let them enter the Gurugram border. Due to this, many times there were clashes between policemen and workers.




Also Read: Maruti Suzuki is launching CNG model of its mini SUV, will be launched soon




Explain that in view of the fast growing number of patients infected by the global pandemic Corona, Home Minister Anil Vij issued an order to increase the boundaries strictly on Thursday night. According to the order from 7 am, Gurugram police had started strictly on the blocks on the borders. E-pass vehicles have also been closely investigated. As a result, as traffic pressure increased after eight o'clock in the morning, there was a jam on the Delhi-Gurugram Expressway from Sirhol border to beyond Rajokari border in Delhi area.