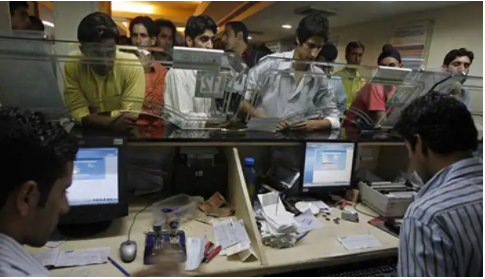 Bank Strike: Important news for government bank customers. All the important work related to the bank should be dealt with quickly. The bank union is preparing to go on strike once again regarding bank privatization.
New Delhi . Important news for government bank customers. All the important work related to the bank should be dealt with quickly. With regard to bank privatization, the bank union is once again ready to go on strike. Recently, the Council of All India Bank Employees Union (AIBEA) has held a meeting with organizations from all over the country. In this meeting, members have been asked to intensify their agitation. Explain that the Bank Unions held a meeting to protest against the decision to privatize the public sector banks, where the members of the bank unions and organizations from all over the country are involved. After the meeting, the organization has threatened to strike on a large scale against the central government's proposal to privatize banks.



Be prepared for a long strike
This meeting was attended by 262 General Council members from various cities across the country. In the meeting, it was decided to intensify the movement against the announcement of unanimous bank privatization. The union meeting said that the general council meeting has called on all our unions and members across the country to continue the struggle against privatization of the bank, to be ready for a prolonged strike.
A two-day national strike was held in March.
It is worth noting that earlier also, in protest against privatization, the bank union held a two-day national strike on March 15 and 16, in which about 10 lakh bank employees took part. Withdrawal of checks and payment instruments worth 16,500 crores was affected on the first day of the strike.
These services will remain operational during the strike
Ashwini Rana, general secretary of Delhi Pradesh Bank Officers Association, told News18 Hindi that in the coming times, banks will be closed continuously. In such a situation, services like mobile apps, net banking, ATMs are available for customers for transactions. Mobile apps are available in almost all banks. You can use these apps. There will be no effect of the strike on this. Explain that at present, including cash transactions, investment in FDs, loan installments, credit card bills, work can be done through mobile.
Know, what is the whole matter?
Bank union representatives said that Finance Minister Nirmala Sitharaman had announced in the Union Budget 2021-22 that the government banks would be privatized in addition to IDBI Bank (IDBI), without naming the government.
The bank will be closed for 10 days.
Let us know that in the month of April, there are about 10 days of bank holidays. Banks will remain closed on this day. Here is the list
10 April – Second Saturday
11 April – Sunday
April 13 – Tuesday – Ugadi, Telugu New Year, Bohag Bihu, Gudi Padwa, Vaishakhi, Biju
Festival
April 14 – Wednesday – Dr. Ambedkar Jayanti, Ashoka the Great's Birthday, Tamil New
Year, Maha Vishuba Sankranti, Bohag Bihu
15 April – Thursday – Himachal Day, Vishu, Bengali New Year, Sirhul
16 April – Friday – Bohag Bihu
18 April – Sunday
21 April – Tuesday – Ram Navami, Garia Puja
24 April – Fourth Saturday
25 April – Sunday – Mahavir Jayanti