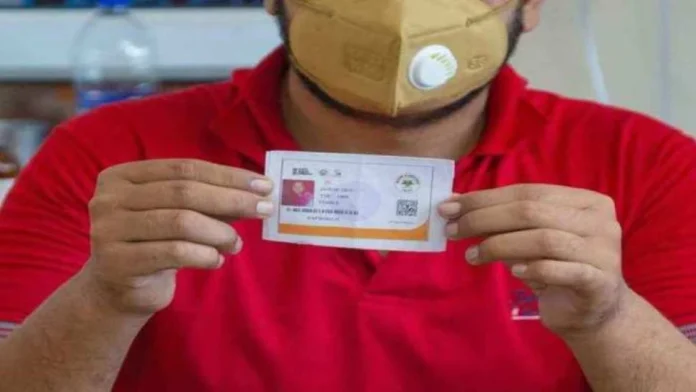 Ayushman Bharat Golden Card is a card made by the Government of India under the Pradhan Mantri Jan Arogya Yojana (PM-JAY) or which is also known as Ayushman Bharat Yojana, which is given to the beneficiary of all government and listed in this scheme. 
Provides free cashless treatment up to Rs 5 lakh in all private hospitals . Ayushman Bharat scheme  has been started by the Prime Minister on 23 September 2018 in Ranchi, the capital of Jharkhand. The main objective of Ayushman Bharat Golden Card Yojana is up to 5 lakh rupees for the economically backward class, lower middle class, poor class and other needy citizens of the country who are unable to get their treatment due to economic reasons and are forced to live a cursed life. The cost of annual treatment will be borne by the government.
Why Ayushman Bharat Golden Card is necessary
In a huge country like India, a large population comes in the middle class and the people of the poor class also have a large part of the population here which is economically backward and for them it is not possible to spend much in the treatment. It has also been seen that due to the high cost of treatment, a large population of India falls into the poverty line every year.
Therefore, in order to overcome these problems and to provide good treatment to the common citizen of the country, the Government of India has started the recommendations of the National Health Policy 2017 and to get universal health coverage. 50 crore people of 10 crore families will be benefited by this scheme .
Eligible
To get the Ayushman Bharat Golden Card, you must be eligible under the Ayushman Bharat Scheme.
Applicant should have a kutcha house in rural area.
The annual income of the applicant from rural and urban areas should not exceed Rs 1 lakh.
BPL card holders of rural and urban areas are eligible for this scheme.
Applicants from rural and urban areas should not own land.
How to check your eligibility
You can check your eligibility in the following way.
Firstly the applicant should go to the official website of this scheme pmjay.gov.in .
After that click on AM I ELIGIBLE icon.
After this, fill the requested information, generate the OTP and select your state
After this there are many options out of which option (mobile no, ration card, name and other options) you can check your eligibility.
Make Ayushman Bharat Golden Card like this
Ayushman Bharat Golden Card Yojana can be made in the following two ways
By Jan Seva Kendra – If you want to get this card made by going to Jan Seva Kendra, then the agent will check your name in the beneficiary list. If you are eligible then you can get your Ayushman Golden Card by submitting the required documents there and paying a fee of Rs 30.
In government or private (listed) hospitals – for this you will have to go to government or private hospitals, if you will be eligible for this scheme, then you can get your Ayushman by submitting the necessary documents.
Now the dream of expensive treatment has come true
This scheme is like a boon for the treatment of poor and poor families because due to financial constraints they could not get expensive treatment, now they will also be able to get treatment up to 5 lakhs. This will not only make India healthy but human resource will also be fully utilized.