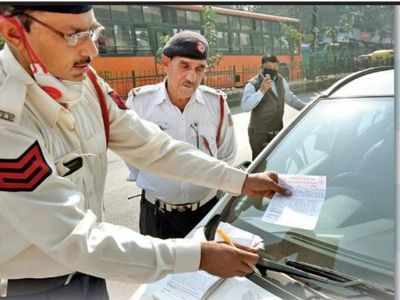 These days in Delhi-NCR, the traffic police has geared up to ensure that the traffic rules are followed. Action is being taken against those who violate the rules continuously and challans are being deducted.
New Delhi. These days, strictness is being taken about the traffic rules. It is also not wrong, it is also necessary to follow the traffic rules for the safety of yourself and others. And now the Delhi Traffic Police has fully geared up to ensure that the rules are followed. At the same time, the traffic police has become strict in Gurugram too. The rate and punishment of many types of challans have also been increased.
Traffic police can be seen in large numbers on the roads of Delhi NCR these days. Action is also being taken against people who break the rules in large numbers. Be it a car with black film, driving without a license, coming on the wrong side or wrong parking. Strict action is being taken against all types of violations. In such a situation, now you see how much challan will have to be paid for violation of which rule and how much can be the punishment…

Driving on the wrong side: In Gurugram, the challan has been increased from Rs 500 to Rs 25,000.
Driving without license : Rs 5000.
Drive without seat belt and helmet: Rs.1000.
Wrong number plate: Rs 3,000.
Black film on the windows of the car: 10 thousand rupees
Not putting the seal belt behind in the car: 1 thousand rupees.
For driving a minor: 25 thousand rupees challan on the vehicle owner and 3 years in jail.
For riding a motorcycle wearing slippers: 1 thousand rupees challan.
A large number of invoices have been deducted
According to a report in India, Delhi Traffic Police has recently taken action against 332 people for breaking the rules. In which 41 challans have been taken for the black glass of the vehicle, 60 challans for not wearing the rear seat belt, 1 challan for driving a minor and 230 people driving the most wrong side vehicles.