Patna, JNN. RJD Goplaganj March: Rashtriya Janata Dal (RJD) leader Tejashwi Yadav demanding arrest of Gopalganj Triple Murder accused Janta Dal United (JDU) MLA Amrendra Pandey aka Pappu Pandey Gopalganj, accompanied by party MLAs and legislators, left for the march, but the police-administration barred him from traveling during the lockdown. During this high voltage drama, when the lockdown strips were seen flying, politics also got hot. Bhola Yadav, who is considered to be 'Hanuman' of RJD supremo Lalu Prasad, has alleged that Nitish Kumar's government wants RJD's people to become corona, so the Korana-infected Bihar Military Police (BMP) was deployed to stop them.
Tejashwi and Rabri left the house, the police stopped




It is to be known that on Sunday, criminals killed their parents and brother by firing indiscriminately at RJD leader JP Yadav's house in Gopalganj. Whereas, JP Yadav was also injured in the incident. The injured RJD leader has lodged an FIR against JDU MLA Amarendra Pandey of Kuchaykot. Tejashwi Yadav has announced a Gopalganj march from Patna in the absence of the arrested MLA. For this March, the entire convoy, including Rabri Devi and Tej Pratap Yadav, who left the house with Tejashwi, was stopped by the police near Rabri Devi's residence.
Also Read: States Can't Hire Workers From UP Without Permission: Yogi Adityanath
Lockdown stripped while stopping the convoy




Lockdown strips were seen flying while stopping the convoy. RJD leaders and workers were not seen to maintain physical distance with each other. The police also showed the same condition. Many RJD workers were seen on the road without a mask. In such a big question, if someone got corona infection, who would be responsible for it?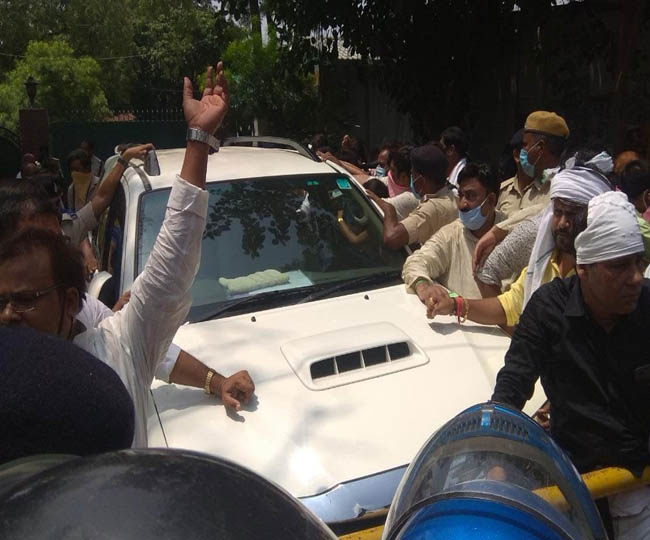 Government wants RJD people to be corona'
Asked about this, RJD leader Bhola Yadav said that the government does not want the lockdown to be followed. As far as RJD is concerned, the party is following the lockdown. Bhola Yadav said that the government wants the people of RJD to become corona. Therefore BMAP personnel affected by corona infection have been deployed to stop the march.




Bhela Yadav considered Hanuman of RJD supremo Lalu Yadav
Bhola Yadav is considered close to RJD supremo Lalu Prasad Yadav. He is also a confidant of other members of the Lalu family. He is also known by the nickname of 'Lalu's Hanuman'.