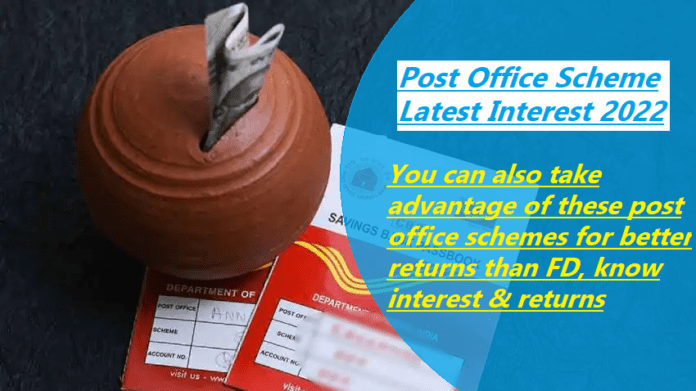 Post Office Scheme: Interest rates on FDs have seen a decline for some time now. In such a situation, you can take advantage of some post office schemes for better returns.
Fixed Deposit has been a popular way to invest your money in a safe and secure way. But for some time, especially in the Corona period, FD interest rates have fallen. If you are looking for a safe way to save your money and get good returns, then some post office schemes can be of use to you.
National Saving Certificate
1. You are getting 8% annual interest on investment in NSC.
2. Interest is calculated on an annual basis only. But you get this amount after the completion of the period.
3. You can also invest with a minimum of Rs 1000. There is no maximum investment limit.
4. NSC account can be opened in the name of a minor and joint account can be opened in the name of 3 adults.
5. Its special thing is that children above the age of 10 years can also open this account under the supervision of parents.
6. Under this scheme, you can save tax on the amount up to Rs 5 lakh under section 80C of Income Tax.

Monthly Income Scheme
1. Under this scheme, investors get an opportunity to earn a fixed amount monthly.
2. In this scheme, you have to deposit a lump sum amount in a single or joint account. After this, according to this amount, money comes in your account every month.
3. Here you can deposit a maximum of Rs 5 lakh in a single account, whereas if there is a joint account, then a maximum of Rs 9 lakh can be deposited.
4. The maturity period in this plan is 5 years.
5. Under this scheme, 6.6 percent annual interest rate is being given.
Kisan Vikas Patra
1. KVP: The minimum investment amount in this scheme is Rs.1000.
2. Age should be 18 years to invest. Minors can invest but under parental supervision.
3. At present 9 percent interest is being given in this scheme.
4. There is facility of single account and joint account.
5. There is a lock-in period of two and a half years. You have to wait for 5 years to withdraw the investment amount.
6. Relief under section 80C is also available in income tax.