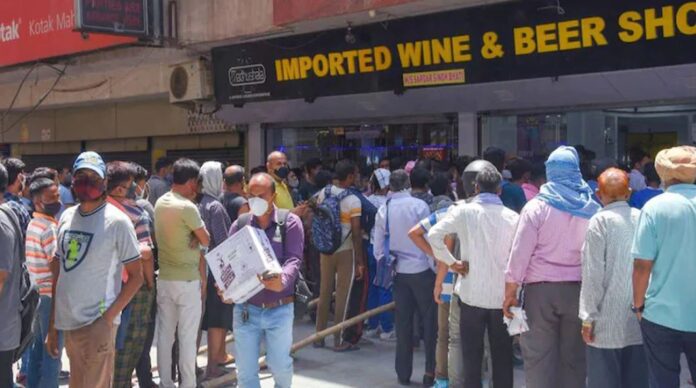 According to the new Excise Policy 2023-24, the Indore Excise Department has decided to close all 146 courtyards and 'shop-bars' in the district on 31 March. There are 18 shop-bars, whose place will be changed.
Process has been initiated for renewal of licenses/allotment of new licenses for all 173 composite shops for the coming financial year. Under this process, shops falling within 100 meters of educational institutions/religious places will be shifted.
According to senior excise officials, there are a total of 128 enclosures and 18 'shop-bars', which are adjacent to several liquor shops. According to the new liquor policy, all these will be closed on March 31. The MP government has decided not to renew the license or give them a new license.
However, all clubs, bars and hotels holding an excise license will be able to continue operating by renewing or obtaining a new licence. Senior officials said that according to the new policy, 18 such shops have also been identified, which are currently within 100 meters of educational institutions or religious places. They will be transferred elsewhere.
Earlier liquor shops were not allowed within 50 meters of educational institutions or religious places but in the new policy this distance has been increased to 100 meters thus marking a total of 18 shops in the district which have been shifted Will go
The Excise Department has also started the process of renewal of contracts of existing liquor shops with a 10 percent increase in the license fee. The shops which will not be renovated will be allotted through lottery method.

E-auction will be done for the shops which will be left after license renewal and lottery system. The new contract of all 173 mixed liquor shops in the district will be effective from April 1.
Application starts for 25 groups left in renewal, last date is March 10
The 25 groups that have survived the renewal in the district will be allotted through lottery for the year 2023-24. Applications were invited from 64 groups for the execution of retail composite liquor shops/groups in the district from April 1, 2023 to March 31, 2024. Of these, 25 are left.
According to the Office of the Assistant Excise Commissioner, the process to download and submit the application form for the remaining group has been started from March 7. This application can be taken till 3 pm on March 10.