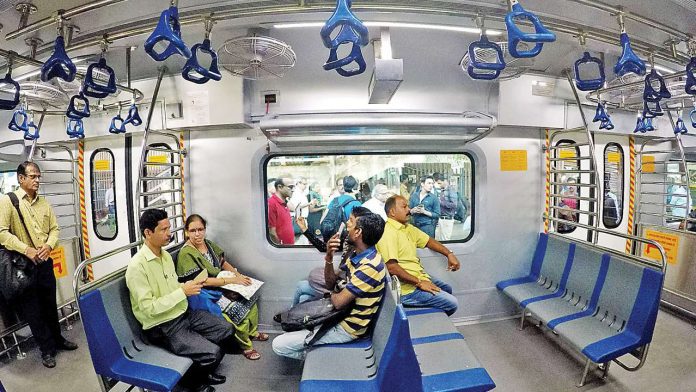 Mumbai Local Train News Update: In view of the heat and the increased number of passengers, the services of AC local on the main line in Central Railway have been increased. This will now reduce the hassle of traveling for the passengers. Some time ago, the railways had reduced the prices of AC local tickets.
Mumbai Local Train News Update: After reducing the fare of single tickets of Mumbai AC local trains, the Railways has taken another important decision. Under this decision, the services of AC local trains have been increased on the main line of Central Railway. The main reason behind increasing the services of AC local train is the increasing demand of passengers amidst the scorching heat. In fact, after the reduction of the fare from May 5, the number of passengers traveling in AC local started increasing rapidly and there was a demand to increase the services between main line CSMT-Kalyan-Titwala-Badlapur. Keeping these demands in mind, the Central Railway has increased the services by shifting the AC local trains running on the Harbor line to the main line.
Services increased from 44 to 56.
After this increase, now the number of AC local services between CSMT-Kalyan-Titwala-Badlapur has increased from 44 to 56. Not only this, 14 services of AC local will run on the track even on Sundays and declared holidays, earlier these services did not run on these days.
Chief Public Relations Officer of Central Railway Shivaji Sutar said that the number of passengers is increasing continuously since the fare has been reduced. After the increase in the number, there was a continuous demand from the passengers to increase the services of AC local. In view of this, we decided to increase its services. With the increase in services, the journey of passengers will become more pleasant.
According to the official statement issued by the Central Railway, people who had taken out near AC local on Harbor Line can travel in non-AC first class compartment and the difference between the fare of both the trains will be paid by the Railways. will return them. For this, passengers can withdraw money by visiting the booking counter.
Even after shifting of AC local trains on main line from Harbor, there will be no change in the number and it will remain same as 1810, because non AC running on main line at which time trains are shifted, harbor line will be run on.

DOWN Trains –
Titwal Local departure time at 6.30 AM
Dombivali Local departure time from CSMT is 10.22 AM
Ambernath Local departure time from CSMT at 1.15 PM & 5 PM
Ambernath Local Departure time at Dadar at 7.39 PM
Thane Lokar Departure time CSMT Timing of 10.20 am
Up Trains –
CSMT Local departure time from Thane at 5.24 AM
CSMT Local departure time from Titwala at 8.33 AM
CSMT Local departure time from Dombivali at 11.48 AM
CSMT Local departure time Ambernath at 3.12 PM & 8.50 PM
Dadar Lokar Ambernath Departure time at 6.30 PM