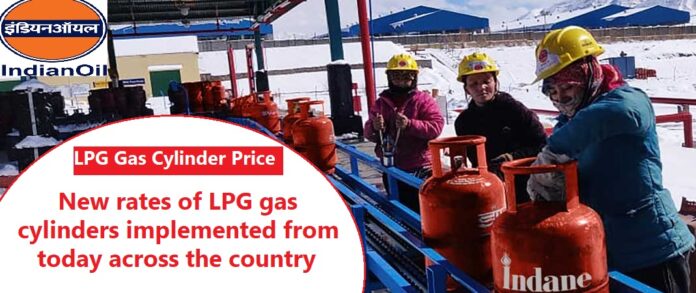 LPG Gas Cylinder Price Today: On July 04, 2022, there has been no increase in the prices of domestic LPG cylinders (LPG) across the country. Government oil companies have released new rates of LPG cylinders.


The prices of LPG gas cylinders were increased by ₹ 50 across the country. Due to this, the price of domestic LPG gas cylinder in many states of the country has reached beyond one thousand and somewhere near 1000. After this, now the problems of the common people have increased and have increased.
It is worth noting that in view of the assembly elections being held in five states including UP, the companies had not increased the prices of LPG for almost five months. Earlier, on October 6, 2021, the last change in LPG prices was done. After the elections, the companies have once again decided to increase the LPG prices.
Domestic LPG cylinder price hiked:
Let us inform that the price of domestic LPG was earlier increased by Rs 50 per cylinder on March 22, after which now again on Saturday, May 8, Rs 50 per cylinder has been increased. In Delhi, the price of subsidized 14.2 kg LPG cylinder has reached Rs 949.50. After the increase in the price, now the price of domestic LPG cylinder in Delhi has gone up to Rs 1003.50.
Price of 14.2 kg non-subsidized gas cylinder:
Delhi – Rs 1003
Jammu and Kashmir – Rs 1120
Bihar – Rs 1082.5
Jharkhand – Rs 1160
Himachal Pradesh – Rs 1051
Haryana – Rs 1048
Punjab – Rs 1044
Uttar Pradesh – Rs 1041
Uttarakhand – Rs 1022
Average state price (price may vary slightly by city)
How much did the price of commercial gas increase:
On Wednesday, June 1, Indane's commercial cylinder has become cheaper by Rs 135. Petroleum company Indian Oil has made this cut in the rate of commercial cylinders, while domestic LPG cylinder consumers have not got any relief. Domestic cylinder of 14.2 kg has neither become cheap nor expensive. It is still available at the same rate as on May 19.
Indian Oil (IOCL) launched a Tatkal service:
There is good news for LPG gas customers. Now you can order LPG to your home within 2 hours of booking. This means that you will not have to wait for LPG gas.

What's new feature:
Government oil marketing company Indian Oil (IOCL) has launched a Tatkal Seva. Through this, gas cylinders are being given to the consumers in just 2 hours. Customers can avail the service through IVRS, IndianOil website or IndianOil One App at a very nominal premium. It has already started in Hyderabad. Let us inform you that Indian Oil informs about this facility from time to time through its social media accounts. Now it is important to see how long this facility of LPG will be implemented across the country.
Booking Number:
You can also book your LPG gas with just a missed call. In a tweet made by Indian Oil, it is said – Your new Indane LPG connection is just a missed call away. You just dial 8454955555 and get LPG connection at your doorstep. Existing Indane customers can also book refills by giving us a missed call from their registered phone number.
Check latest rates from official website:
If you want to check the latest rates of gas cylinders in your city, then you can check the official website of the government oil company. You can also check the latest rates by clicking on this link https://iocl.com/Products/IndaneGas.aspx. Let us tell you that new rates of gas cylinders are issued on the first of every month. LPG Gas Cylinder Price Today