New Delhi Locust teams have now entered Maharashtra along with Uttar Pradesh, after Madhya Pradesh via Rajasthan. This time their size is also large. Their movement has also increased due to the complete containment due to lockdown. This is the reason why Madhya Pradesh, Uttar Pradesh, Rajasthan, Uttarakhand, Punjab and Haryana have issued an alert, sensing the danger. Along with this, continuous efforts are being made for their disposal. In UP, there are instructions to destroy locusts instead of exterminating them. Scientists have warned that if they are not eliminated before the monsoon, then there will be a great threat to the future.  
Pesticide spraying is being done continuously in districts of Madhya Pradesh for control. In this action, the herds of the remaining locusts have entered Maharashtra via Uttar Pradesh and Betul via Sidhi-Singrauli. Experts believe that by the onset of monsoon, the locust will be completely controlled. More than 30 districts of Madhya Pradesh are affected by locusts. Central and state government teams are constantly monitoring the locust party that came to Madhya Pradesh via Mandsaur and Neemuch.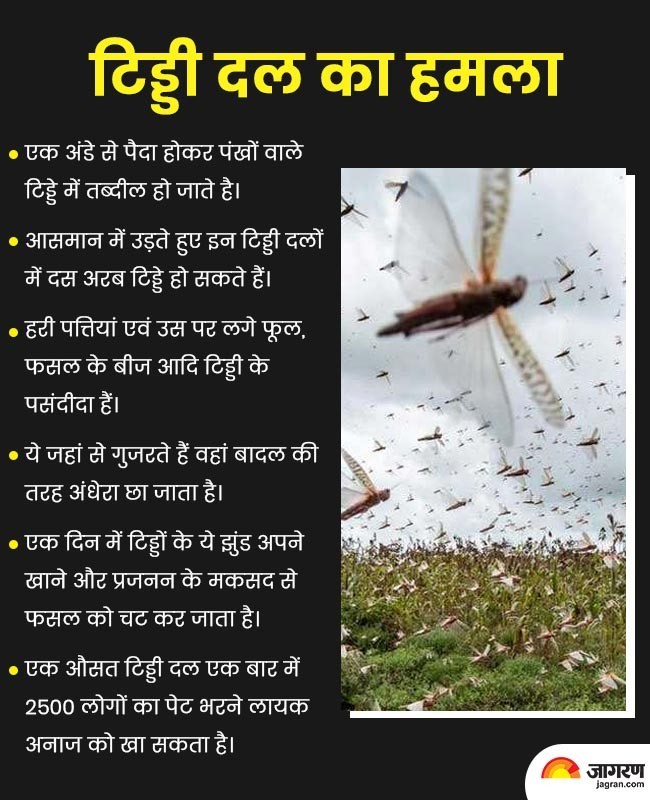 Party reaches Sonbhadra in Uttar Pradesh




Despite the windy direction on Wednesday, several small locust teams were seen flying towards Jhansi. A small group reaches Sonbhadra. According to information received from the Uttar Pradesh State Control Room, locusts attacked in Moth and Garutha tehsil area of ​​Jhansi district but due to lack of numbers, crops suffered less. The control teams drove the locusts in collaboration with the villagers.
Also Read: Crops destroyed as India faces 'worst locust attack in 27 years'
Instructions to destroy locusts
Uttar Pradesh Agriculture Minister Suryapratap Shahi says that locusts should not be harmed, so they have been instructed to destroy them by spraying chemical drugs instead of exterminating them. In Jhansi, 40% of locusts have also been successful in destruction.
Anticipation of reaching Lucknow
The swarm of tadis has come close to Agra and Hamirpur. High alert was declared in Hamirpur in view of the possibility of their halt due to greenery on the banks of Betwa river in Hamirpur till late evening. It is feared that they will enter Lucknow via Hamirpur to Kanpur countryside and then to Unnao. Due to this, everyone has been instructed to be ready.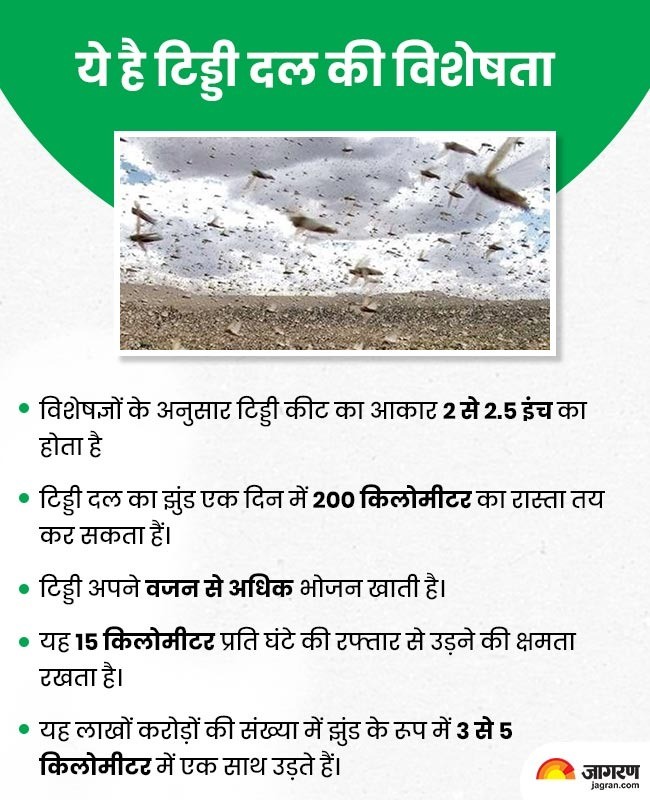 High alert declared




Uttar Pradesh Agriculture Director Sauraj Singh said that despite the high intensity of locusts towards Madhya Pradesh, full vigilance is being done in the border districts. The locust group, driven from Jhansi, is expected to move towards Jalaun and Hamirpur. Therefore, there has been a high alert in both the districts.
Punjab is more threatened
Due to being adjacent to the border of Pakistan and Rajasthan, their danger is also to Punjab. Locusts have also been seen in many villages in the Fazilka district before, but as seen here, it is only a broken part of a large herd. The Punjab government has issued a high alert in Faridkot, Fazilka and Bathinda.
Danger hovering over Delhi 
Locust teams from the border states have climbed to the border of the National Capital Region. Their attack has intensified due to the outbreak of heat in the weather. The locust contingent is moving towards the capital Delhi via Rajasthan and Haryana. To eliminate locusts, India is confident of helping Iran and Afghanistan to eradicate locusts. However, Pakistan has not participated in the convened meeting of the affected regional countries. 
Haryana fully prepared




The state government's concern has increased with the locusts turning to Haryana. The officers of the Agriculture Department have been put on high alert. Medicines have been stored in all the districts. State Agriculture Minister Jayaprakash Dalal said that the Agriculture Department is fully prepared. It is a matter of relief that the locust party has moved to Rajasthan-Gujarat with wind. Locusts have been spotted at isolated places in Haryana. Entomologists from Haryana Agriculture Department and Chaudhary Charan Singh Haryana Agricultural University (CCHAU) say that the locust team is currently 135 km from the Haryana border.
Control required before monsoon 
Director General of the Indian Council of Agricultural Research (ICAR), Dr T Mahapatra, says that the outbreak of these locusts has not had any effect on the wheat, pulses and oilseed crops of the Rabi season. Dr. Mahapatra said that with the arrival of monsoon during June and July, their reproduction will be greatly increased, which is a big threat to the kharif crops. It is necessary to finish them before the monsoon. Presently more than 700 tractors have been installed in these areas for spraying of pesticides. So far these locust parties have attacked more than 40 thousand hectares of fields.
That's why locusts are moving fast 
Officials of the Department of Agriculture believe that the harvesting of the Rabi season crops was almost complete even before the locust teams entered the Indian border, so no damage has been done. In Rajasthan and Gujarat, in the case of locust parties not getting some green vegetation, their party has moved fast. Strong winds increase their speed. This is the reason that the districts of Maharashtra and Madhya Pradesh and Uttar Pradesh have started appearing. Central and state agencies are working effectively in this direction. On the other hand, officials of the Locust Warning Organization (LWO) say that grasshopper groups active in the northern states will be eliminated soon.