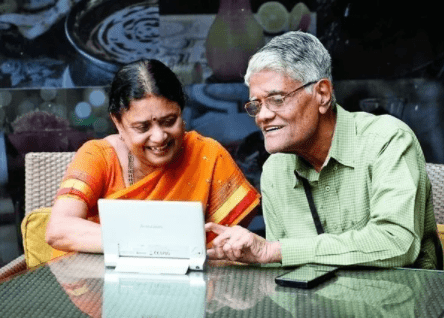 If you are a pensioner then you can submit your life certificate in your bank sitting at home. From October 1, government pensioners are required to start submitting their annual life certificates. Pensioners had to go to bank or post office to submit life certificate..


From October 1, government pensioners are required to start submitting their annual life certificates. Till now, pensioners had to visit the bank or post office to submit their life certificate, but now they can do so from home.
As a pensioner, you can avail the services provided by many public sector banks and postal service of the country by submitting your life certificate.
According to a circular issued by the Department of Pension and Pensioners' Welfare on September 20, 2021, pensioners can submit life certificates using the doorstep banking alliance of 12 public sector banks or the doorstep service of the Department of Posts.
Doorstep Banking Alliance:
It is an alliance among 12 public sector banks to provide doorstep services to the customer. These banks include State Bank of India (SBI), Punjab National Bank (PNB), Bank of Baroda, Bank of India, Canara Bank, Bank of Maharashtra, Central Bank of India, Indian Bank, Indian Overseas Bank, Punjab and Sind Bank, UCO Bank and Union Bank of India. These banks have started the service for the collection of life certificates under doorstep banking services.
How can you take advantage
To avail this facility, first you have to book the service through mobile app, website or by calling toll-free number. After this the doorstep agent will come to your house on the given date and time.
According to Banking Alliance, "In the current pandemic situation, it is difficult for customers, especially pensioners, to visit the branch for submission of Life Certificates. PSB Alliance has introduced Digital Life Certificate submission through Door Step Banking. The facility is being provided which the pensioners can book. The DSB agent will collect the life certificate online using Jeevan Pramaan App at the doorstep of the customer."
To book the service, you can download the 'Doorstep Banking' app from Google Playstore, or you can log on to the website Doorstepbanks.com at www.dsb.imfast.co.in/doorstep/login. Apart from this, you can call on the toll-free number 18001213721 or 18001037188.