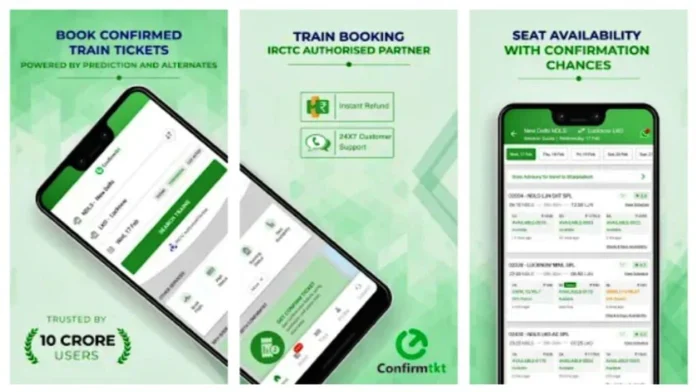 IRCTC Tatkal Ticket App: There is good news for the passengers traveling in the train. Now you will not have to worry about tatkal tickets. Railways has now launched a new app for booking Tatkal tickets, which you can download from the IRCTC website.


New Delhi: IRCTC Tatkal Ticket App: There is important news for those traveling by train. Now you will not have to worry about tickets. Railways has now launched a new app for Tatkal tickets. This app will be available on IRCTC website only. Through this app, you can book Tatkal tickets in a jiffy from the comfort of your home.
Now there will be no problem in the confirmed ticket
Many times it happens to the passengers traveling by train that suddenly they have to travel. In such a situation, it is difficult to get a confirmed ticket in the train. Then getting Tatkal tickets is also not easy. But this new step of the railways will facilitate the common people. Confirmed ticket from premium partner of IRCTC; This app is shown by name.
Swipe, shuffle, select & book ever had it this easy with your #train #ticket #booking! #Download the #IRCTC #RailConnect app from Google Play/Apple Store & have the most convenient & relaxed time while enquiring & booking tickets. Info: https://t.co/e14vjdPrzt@AmritMahotsav

— IRCTC (@IRCTCofficial) February 18, 2022
These tremendous benefits will be available from the app
On this app launched by the Railways, you will also get information about the seats available under Tatkal quota for the train.
Apart from this, you can also find vacant seats very easily by entering different train numbers.
Along with this, you will get the information about the remaining Tatkal tickets in all the trains running on the respective route from the comfort of your home on this app.
You can download this app from Google Play Store.
This app also has a master list for ticket booking so that your time will not be wasted for booking tickets.
Ticket booking time
On this app, passengers can book Tatkal tickets from 10 am onwards through their save data.
After this, here you will be able to make online payment of this ticket.
Keep in mind that even after the ticket is booked, the ticket may be waiting.
The name of this app is confirmed ticket.
You can also download this app from IRCTC Next Generation Mobile App.