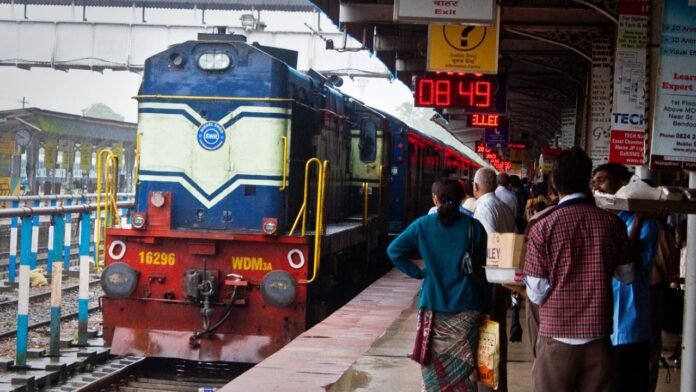 Indian Railways: With this facility of railways, now passengers can sleep in the train without any worry. Now you don't have to worry about missing your station.
New Delhi. Indian Railways always takes care of the convenience of its passengers. Railways have started many services so that the passenger does not face any kind of problem. Railways is not only limited to travel now, but a lot has changed in the last several years. Railways has started a new facility to make the journey of passengers even more comfortable. With this facility, passengers can now sleep peacefully in the train. You don't have to worry about missing your station anymore. But most people do not know about this service of this railway.
The name of this new service is Destination Alert, this facility has been started for the passengers traveling at night. Passengers using this service will get SMS and a reminder call from the Railway side 20 minutes before the arrival of the destination station. But one thing that you people have to keep in mind is that this service has been started for long-journey trains. Passengers can ask for alert facility on 139 number inquiry system.
How much will be the charge
Calls from metro cities will be charged at the rate of Rs 1.20 per minute for this destination alert facility. At the same time, the rate of Rs 2 per minute is fixed for non-metro cities. At the same time, Rs 3 will be charged for SMS. Under this, a wake up call will be received on the mobile 20 minutes before reaching the destination station. IRCTC has currently made this facility available from 11 pm to 7 am.

Activate destination alert like this
To set the wakeup alarm, IRCTC helpline number 139 has to be called.
On receiving the call, the passenger will be asked to press any number to select the language.
After this, for wakeup destination alert, you have to press 7 and then 2 numbers.
After this the passenger will have to enter his 10 digit PNR number.
After entering PNR, it has to be confirmed by pressing 1 number.
After doing this, the destination alert of the passenger will be set.
This service can also be availed through SMS FOR Destination Alert.
Go to your phone's message and type ALERT and send it to 139.