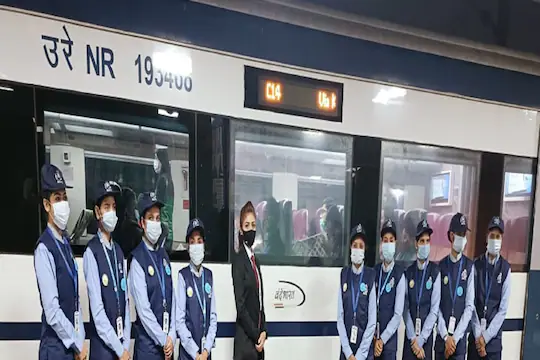 New Delhi. The Indian Railway Catering and Tourism Corporation has taken a big decision keeping in mind the convenience of the passengers while traveling in trains. Now train hostesses will run in premium trains.


That is, women crew will now run in Shatabdi, Gatimaan and Tejas. When you travel in these trains in future, the train hostess will welcome you. According to IRCTC, it has recently been started with Vande Bharat Express. This change will be done in all premium trains one by one.
According to the Ministry of Railways, 25 premium trains are currently operating. These include Shatabdi, Rajdhani, Duronto, Gatimaan, Tejas, and Vande Bharat. According to IRCTC (IRCTC) train hostess will run all the trains running during the day. The system will remain the same in the trains running at night.
In this way, the new system will not be applicable in Rajdhani and Duronon, because both trains have night and day travel. Therefore, except these trains, all will have train hostesses. The train hostess will have the same dress. At present, 12 Shatabdi, one Gatimaan, two Vande Bharat, one Tejas Express are running.
So change is being done
According to IRCTC, this change is being made to provide better convenience during the journey. Female Crew Service is better provided by the males as compared to the males. Flights are a good example of this. Apart from this, women crew are comfortable in conversation, passengers also reduce complaints with train hostess. According to IRCTC, the biggest reason for the change is to promote women empowerment. Like other fields, women will also come forward in this field.