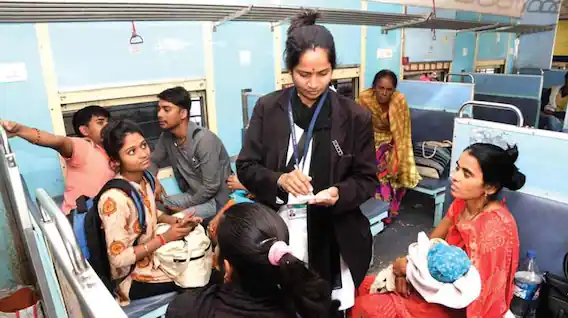 Indian Railway: There is good news for Indian Railways passengers. Now a new system is going to start for confirming waiting tickets. Under the new system, passengers with waiting tickets will not have to make rounds of TTE. Their ticket will be automatically confirmed as soon as the seat becomes vacant.


In trains, it is often seen that passengers with waiting tickets keep circling the TTE back and forth. Many times the ticket is not confirmed even after making lakhs of requests and many times the ticket gets confirmed by paying a bribe of few rupees. But, now this will not happen, because Indian Railways is going to make changes in its system. Now passengers will be able to easily confirm the ticket in the moving train. Under this new arrangement, all TTEs will be equipped with hand holding devices. As soon as the reserved seat becomes vacant on this device, it will be updated in real time thus automatically confirming the seats of the passengers with waiting tickets.
It is to be known that under the current arrangement, the updated chart is issued about 30 minutes before the departure of the train. The TTE then manually verifies the RAC in the moving train and then the waiting ticket. Since the system is manual, it is done at the discretion of TTE. They often confirm tickets to waiting passengers instead of RAC. In such a situation, whose ticket should have been confirmed earlier, he is facing trouble. However, now under the new system, passengers with waiting tickets will get rid of this problem.

In view of the complaints of the passengers, the Railway Board took this decision: In fact, the railway officials were constantly receiving complaints of TTE's arbitrariness. In view of this problem of the passengers, the officials have decided to make changes in the system. The Railway Board has now ordered all TTEs to provide hand holding devices. Now these equipments are being given to TTEs of all railway divisions.
Agra division will also get equipment soon: An officer of Agra division told that soon 300 equipments are going to be found in their place. TTE will have to be updated real time on the device as soon as the reserved seat becomes vacant. After which the seat confirmation message will reach the passenger's mobile as soon as the seat becomes vacant. In this way, passengers will neither have to make rounds of TTE nor will they have to warm their pockets.