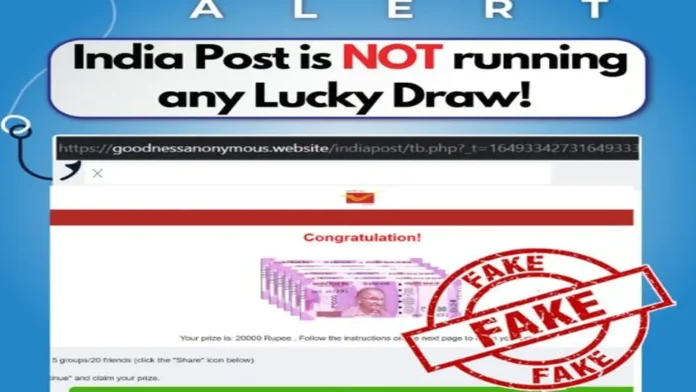 A message is going viral very fast on social media. In this message, an appeal is being made to participate in a lucky draw in the name of India Post . It is being said in the message that by participating in the lucky draw of the Department of Posts, you can win a prize of Rs 20,000.
But you need to be careful because it is a fraud in the name of lucky draw. You may lose your money and later find out that there was no lucky draw. Government organization Press Information Bureau ( PIB ) has fact-checked this viral message and has told that the post office does not run any such lucky draw.
To check such misleading and fake news, PIB has created a Twitter handle in the name of PIB Fact Check. On this platform, such news is investigated which are fake and are made viral with the aim of luring the customers. In a similar news in the name of post office, it has been said to run a lucky draw. The message also states that the participant who wins the draw will get Rs 20,000.
what is in fake message
A #fake website 'https://t.co/s4GEjgqz9L' impersonating as @IndiaPostOffice is running a lucky draw & offering a chance to win ₹20,000.#PIBFactCheck

▶️ The website is not associated with the India Post

▶️ Join us on #Telegram for quick updates: https://t.co/zxufu0SIzG pic.twitter.com/mQVnsq0THX

— PIB Fact Check (@PIBFactCheck) April 8, 2022
PIB Fact Check states that a fake website posing as India Post is running a lucky draw. There is a chance to win up to Rs 20,000 in the lucky draw. According to Fact Check, this website is not associated with India Post. PIB has written in Fact Check's tweet that India Post is not running any lucky draw and this is a fraud alert which needs to be careful.

What is the greed of fake website
The fake website has put a picture of India Post on its home page so that common people can be misled. People have a lot of trust in the postal department, so fake websites have resorted to it. Fees are also asked from people to participate in the lucky draw. Paying the fees online will make it easier to become a victim of online fraud. All your information can be stolen and later the account can also become empty. So, beware of this fraud happening in the name of India Post. The government has also warned about this.
The home page of the fake website reads 'India Post 170th Anniversary Bonus'. It is written just below this line – You have a chance to win 20000 rupees through question and answer. If you look below that, 4 questions related to India Post have been asked. After clicking you have to answer the question. The most important thing is that many people's photos and reactions have been written at the bottom of the page. In response, it has been said to get bonus money. It all seems fake because it can be an easy trick to trap people.