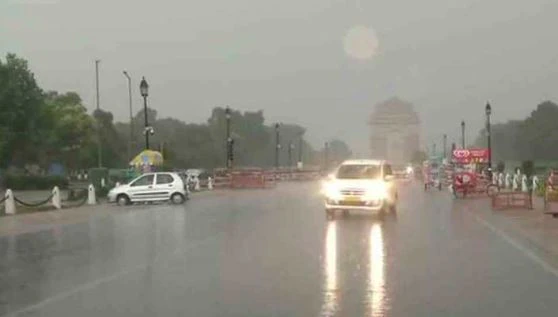 UP Weather Today, IMD UP Weather The weather has changed in North India. In fact, a forecast of thunderstorms including heavy rain and strong wind has been issued at many places.
UP Weather Today: In view of the possibility of rain in 62 districts of the state including Western UP (Weat UP) in Uttar Pradesh on Thursday, IMD has issued a Yellow Alert.
UP Weather News: According to the forecast of IMD in Uttar Pradesh, once again an alert has been issued for rain. There was a change in the weather since Thursday morning. Amidst the movement of clouds, alerts have been issued for rain in 14 districts of the state including Western UP (Weat UP). On behalf of the Meteorological Department, there is a possibility of scattered rain with cloudy weather in Lucknow. Yellow Alert has been issued in view of the possibility of hailstorm with rain.
The Meteorological Department has issued an alert for rain in 14 districts of UP including western Uttar Pradesh while issuing the late. Bulandshahr, Sambhal, Kasganj, Etah, Firozabad, Agra, Hathras, Mathura, Aligarh, Unnao, Rae Bareli, Hamirpur, Banda and Chitrakoot districts are included in the rain alert issued by the Meteorological Department of Zonal Science Center, Lucknow on Thursday. . During this, winds will blow at a speed of 40 to 50 kilometers per hour in these districts and thunder and lightning will also be seen.
Kaushambi, Prayagraj, Fatehpur, Santakbir Nagar, Basti, Maharajganj, Siddharthnagar, Gonda, Balrampur, Shravasti, Bahraich, Lakhimpur Kheri, Sitapur, Hapur, Farrukhabad, Kannauj, Kanpur Dehat, Kanpur City, Lucknow, Barabanki, Amethi, Sultanpur, Ayodhya, Ambedkarnagar, Shahjahanpur, Shamli, Muzaffarnagar, Baghpat, Meerut, Ghaziabad, Noida, Hathras, Kasganj, Etah, Etawah, Auraiya, Bijnor, Amroha, Moradabad, Rampur, Bareilly, Pilibhit, Sambhal, Badaun, Jalaun, Hamirpur, Mahoba, There is a possibility of rain in Jhansi, Lalitpur and surrounding districts.

In most districts the temperature crossed 35 degrees.
According to the Indian Meteorological Department, there are chances of drizzle along with strong wind and dust storm in Varanasi and surrounding districts from March 17 to 19. According to meteorologists, the main reason for this is the activation of Western Disturbances. Changes are being seen in the weather since Holi. On March 8, due to drizzle and westerly winds, the shivering increased in the morning and evening.
According to the Meteorological Department, the day may start with a slight cold on Thursday, but after that the heat will start increasing. The minimum temperature in all the districts of UP has crossed 17 degree Celsius. In many districts, the maximum temperature has been recorded beyond 35 degrees. Whereas on Thursday, it has been predicted to be cloudy at most places in the state. There is also a possibility of hailstorm along with light rain at some places.