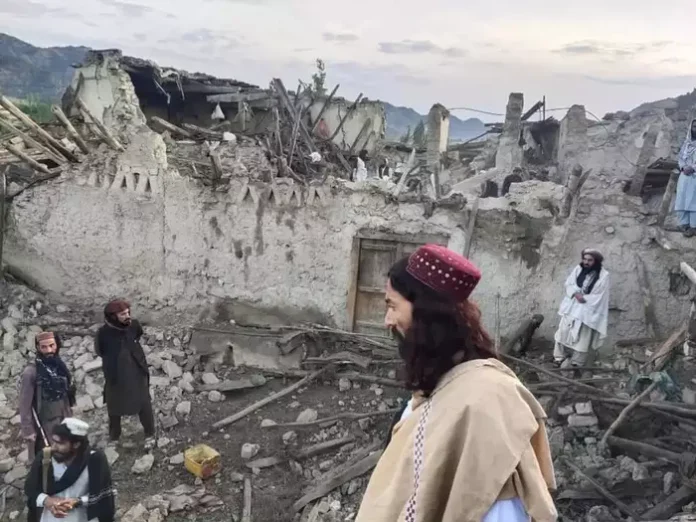 Afghanistan Earthquake Death: About 1000 people are reported to have died in a severe earthquake in Afghanistan. This earthquake was so strong that there was heavy destruction in many areas including Paktika province. .
Hundreds of people have been confirmed dead in Paktika and Khost areas. The tremors of this earthquake were felt till Pakistan.
he severe earthquake that struck Afghanistan and Pakistan on Wednesday morning has caused great devastation. An earthquake measuring 6.1 on the Richter scale is reported to have killed 1000 people in Afghanistan. And more than 600 people have been injured. The most affected areas have been Paktika and Khost. Many villages here have turned into ruins. In Pakistan too, there has been destruction in many areas adjacent to Afghanistan. According to the report of the US Geological Survey, the epicenter of this earthquake was 44 km from the city of Khost in southeast Afghanistan.
Afghanistan's news agency Bakhtar has reported this massive devastation. The agency said that rescuers have reached the area by helicopter. Taliban government deputy spokesman Bilal Karimi said, "There has been a severe earthquake in 4 districts in Paktika province. Hundreds of people have died in this and dozens of houses have been destroyed. We request all the aid agencies to send their teams to the area so that further destruction can be avoided.


Many houses destroyed, deaths in Pakistan
According to the Afghan media, pictures of huge destruction are coming to the fore in Khost. In Pakistan also there is news of death of one person in Khyber Pakhtunkhwa province. It is being told that the roof of the house collapsed due to the earthquake, due to which this person died. This earthquake occurred at 1:54 am Pakistani time. Tremors were felt in Peshawar, Islamabad, Lahore and Punjab and other parts of Khyber Pakhtunkhwa province in Pakistan and up to India.
Images coming from Afghan areas show that many areas have been destroyed due to the earthquake. The European Earthquake Center estimates that the tremors were felt in an area of ​​about 500 km. After the tremors of the earthquake, people panicked and came out on the streets. Earlier on Friday, an earthquake measuring 5 on the Richter scale struck many cities in Pakistan.