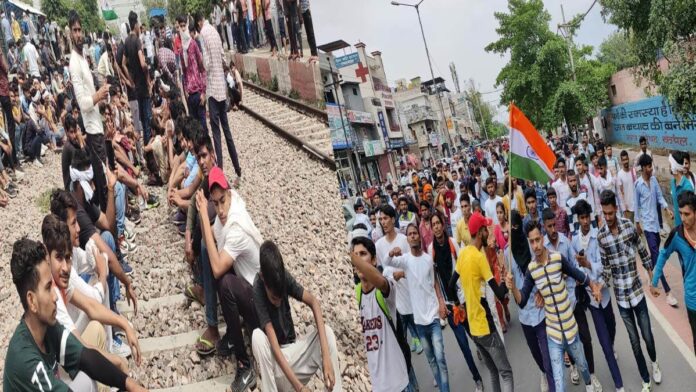 Opposition to Agneepath scheme continues from UP Bihar to Haryana. At the same time, there is an alert regarding the protest administration to be held on June 20. Strict instructions have been given by implementing Section-144 in many cities of Haryana. Also the security system was beefed up.


Agneepath fire is increasing in Haryana. There is anger among the youth in many cities and the protests are increasing day by day. Administration is also on alert in many cities including Mahendragarh, Sonipat, Jind, Fatehabad, Kaithal, Kurukshetra, Ambala, Mewat, Palwal. At the same time, in many cities including Kurukshetra, Jind, the administration has also implemented Section-144.
Section-144 is applicable in this limit in Kurukshetra.
District Collector and Deputy Commissioner Mukul Kumar has imposed section 144 in the area around one kilometer from the new bus stand to the mini secretariat in view of the opposition to the Agni Path scheme. Under this, now more than four people gathering together will not be able to come to the small secretariat to demonstrate in this periphery.
Fear of strong opposition on 20
In protest against the Central Government's Army Recruitment Agni Path Scheme, a large number of youths, desirous of joining the army, gathered near the new bus stand on 20th June, under the chairmanship of Milkha Singh village, reaching the small secretariat Kurukshetra. There is a program to submit a memorandum to the DC. The distance of Mini Secretariat from New Bus Stand is about one kilometer. In such a situation, to maintain security and law and order, DC Mukul Kumar has passed orders to impose section 144 on this route.

Will be watched
During this, during the gathering at the new bus stand, on the provocation of some mischievous, anti-social element, in front of the bus stand, blocking the traffic on Pipli-Kurukshetra road, protesting from the new bus stand while coming to the mini secretariat at the new bus stand, One can vandalize other government buildings including AIR Kendra, Fire Department office, Army office, Panchayat Bhawan and District Library. During this, in order to maintain law and order and to prevent any untoward incident from happening at these places, carrying sticks-danda, sword, Gandasi, fire and any kind of deadly weapon, open petrol, diesel under section 144. There will be a complete ban on cans and bottles. Action under section 188 of the Indian Penal Code will be taken against the person disobeying these orders.
Protests against Agneepath scheme in Jind blocked for the third day
The process of blocking the protest against Agneepath continued on Sunday. Due to this, the route of the buses was diverted and sent to the designated place. Due to the jam in Kandela village from 10 am to 12 noon on Sunday, buses were sent to Kaithal via Dhankhari, Jeetgarh and Nagooran. At the same time, some buses going to Kaithal were taken from Dalmalwala and Bohatwala routes. At the same time, buses going to Chandigarh were sent via Narwana and Kalayat. Apart from this, due to the jam in Narnaund, buses were sent further via Sulchani and Petwar. Apart from this, buses doing night stay in villages were not sent to the village on Sunday.
Alert here too
Apart from Kurukshetra, Jind, there is an administration alert in many cities including Panipat, Hisar, Ambala, Kaithal, Karnal. Section 144 has also been invoked.