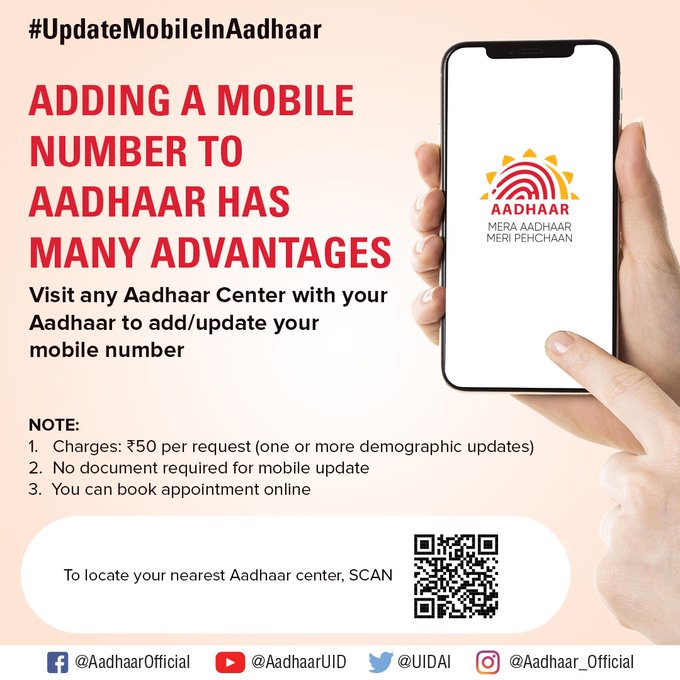 In today's era, the 12-digit identification number (Aadhaar Number) is very important for every Indian. Aadhaar Card not only verifies our address, but also verifies identity. However, to get a variety of services simultaneously, it is very important to have a link to Aadhar card and mobile number. It should also be kept in mind that the mobile number linked with your Aadhaar is required. This directly means that the mobile number you are using should be linked with the Aadhaar Card.



However, if your mobile number is not updated with your Aadhaar Card, then you do not have to worry at all. You can update your mobile number with Aadhaar card without any document. The Unique Identification Authority of India (UIDAI) has given this information through a tweet recently. UIDAI has tweeted that it does not require any documents to add mobile number with Aadhaar number. You just have to take your Aadhar card and go to the nearest Aadhaar Seva Kendra. You will be able to request to add or update the mobile number at the Aadhaar service center. More Read: Aadhaar Card update: update your Aadhaar card in 10 minutes from your phone, know these easy processes
#UpdateMobileInAadhaar
Adding a mobile number to Aadhaar doesn't require any document. Just carry your Aadhaar to any nearby Aadhaar Center to place an add/update mobile number request.
Find your nearest Aadhaar Center here https://t.co/dtBtCH8Wqa pic.twitter.com/NpaBUBWsQy

— Aadhaar (@UIDAI) January 25, 2021
It is very important to have the mobile number updated in the Aadhaar card. This helps you to avail various services related to Aadhaar. For example, if the mobile number is updated, you can update the details by name, address in the Aadhar card sitting at home. In addition, income tax returns can be e-verified. Apart from this, you can also avail the benefits of many types of services related to EPF.