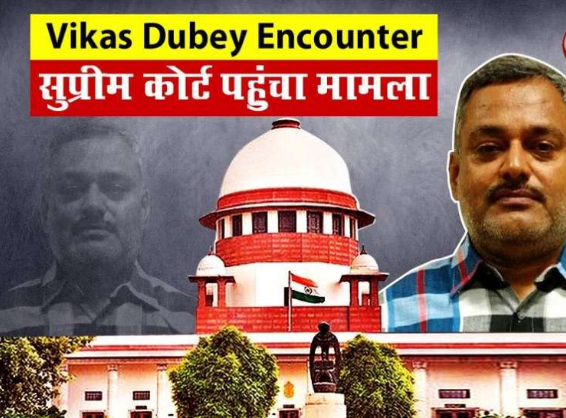 Vikas Dubey Encounter now reached Supreme Court
Mukhbiri accused SI KK Sharma filed a petition in the Supreme Court
The petition also requested to hand over the investigation to the case to the CBI
new Delhi. The infamous Vikas Dubey Encounter of Kanpur has now reached the Supreme Court. Sub Inspector KK Sharma (Sub Inspector KK Sharma), accused in the murder case of 8 policemen in Kanpur on July 3, filed a petition in the Supreme Court (Petition filed in Supreme Court) demanding protection for his life. is. Along with this, the petition has also requested to hand over the investigation to the CBI. Significantly, on July 3, in the early hours of July 3, the police team went to give Vikas Dubey's house to Kanpur Dabount, during which eight CO and eight policemen including Inspector were killed in the attack.




This petition has been filed in the Supreme Court by Sub Inspector Krishna Kumar Sharma through his wife Vinita Sirohi, in which he has threatened the risk of life. The petition said that KK Sharma could be killed illegally. KK Sharma has been arrested on the charge that he informed Vikas Dubey of police raid in Bikaru village. In response to which Sharma said that in-charge Vinay Tiwari of Chaubepur police station had instructed him to call and stay in the police station.
Also Read: Pakistan: Peshawar-based Rishi Kapoor's ancestral bungalow may be demolished, government promised to convert it into museum




Let us tell you that the Police Incharge Vinay Tiwari and Sub Inspector KK Sharma of Chubepur have been suspended on charges of informing police raid to Vikas Dubey and endangering the life of the police team. In this case, there is a possibility of connivance with Vikas Dubey of the entire Choubepur police station, due to which 68 police personnel have been present so far. With this, action is likely to be taken on many more policemen. It is being told that mobile numbers of about 200 policemen are being traced to Choubepur, Shivrajpur, Bilhaur, Kakwan police station of Bilhor Circle and Shivli police station in Kanpur countryside.