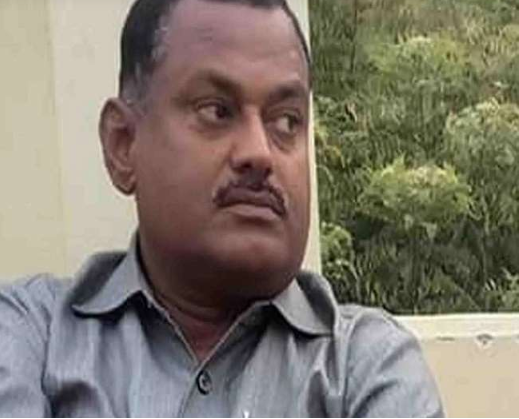 Lucknow After the killing of eight policemen including Uttar Pradesh Police Deputy SP in Bikeru village of Chaubepur in Kanpur, the state government has announced a big reward on the absconding chief accused Vikas Dubey. DGP Hitesh Chandra Awasthi has announced that the person who catches Vikas Dubey will be given a reward of Rs 2.5 lakh. DGP Hitesh Chandra Awasthi said that a case has been registered against Vikas Dubey in the murder of eight policemen in Chaubepur police station in Kanpur in Crime Number 192/2020.
Vikas Dubey son Ram Kumar Dubey resident of Vikru police station, Choubepur, earlier had a prize of 25 thousand, which has been increased to 50 thousand, 1 lakh and now 2.5 lakh. IG Range Mohit Aggarwal had announced a reward of Rs 1 lakh on Vikas Dubey, a history-sheeter of Rs 50,000. 




IG Range Mohit Aggarwal sent a file to Vikas Dubey, proposing to increase the reward amount to Rs 2.5 lakh. IG range recommended DGP to increase the reward. The DGP has announced a reward of Rs 2.5 lakh on the main accused of the most wanted criminal Vikas Dubey incident involved in the murder of 8 policemen in Kanpur. 
Vikas Dubey, the main accused in the murder of three COs, three constables and four constables of a police team who went on a rampage in Bikaru village of Chaubepur police station area of ​​Kanpur on July 2 and 3, is still out of the state's police custody. Heavy teams are looking for him outside the state as well. Along with this, the police have installed posters at most places in the most advanced development. Along with these toll plazers, posters of Vikas Dubey have been installed at the border of the state. 900 police personnel have been deployed in 60 teams to capture the Most Wanted 2.5 lakh prize historyheater Vikas Dubey. At the divisional level, 40 police teams have been deployed, while 20 teams from the headquarters level have also been deployed in search of Most Advanced Vikas Dubey. There are also six teams of STF. 




Also Read: India China Tension: NSA Doval takes over, talks with Foreign Minister of China; Chinese army backtracked
Vikas, wife of Vikas, tightened screws, seized mobile
Richa Richa, the district panchayat member wife of vicious criminal Vikas Dubey, has also been tightened by the investigation teams. Gangster Vikas Dubey, the main accused in the murder of eight policemen, is out of police custody for the fifth day. Now the faces of his family members are also being exposed in the police investigation. A shocking case has surfaced about Vikas's wife Richa. The village's CCTV was connected to Richa Dubey's mobile




Whenever the police caught Vikas, she would make the clip viral on social media so that the police could not encounter Vikas Dubey. Police have seized Richa Dubey's mobile. Vikas's wife Richa is a Zilla Panchayat member with the support of Samajwadi Party. Richa Richa, a District Panchayat member in Kanpur, lived with children in Chandralok Colony of Krishnanagar in Lucknow. He is also absconding as soon as police action starts on Vikas Dubey. 
Kanpur Inspector General of Police Mohit Aggarwal said that whoever gives the correct information about Vikas Dubey will not only be rewarded but his identity will also be kept secret. At present, Dubey's posters have been directed to be placed on the toll of the entire state. So that if he gets out of any toll, then he can get information about it. Now the surveillance team of the police are constantly on the mobile of the people close to Vikas Dubey. In the meantime, if he and everyone who has any relationship with him is on the police radar.