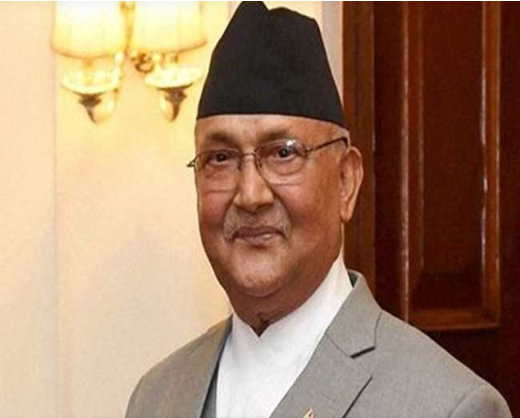 Kathmandu, Pratr. PM KP Sharma Oli is now using militant nationalism to divert attention from the power struggle in Nepal Communist Party and the ongoing anger against the government in the country. He accused India in gestures about the arrogance in the party and said that an embassy is plotting against my government in a hotel. PM KP Sharma Oli claimed on Sunday that his government was strategically trying to remove him from the post after three major Indian regions were strategically included in the country's map. Without naming any person or country, Oli claimed, an attempt is being made to remove me from power. But it will not succeed. Prime Minister Oli had claimed that meetings were being held to remove him at a hotel in Kathmandu and an embassy was also active in it. 
A variety of activities in embassies and hotels




In an event organized to celebrate the 69th birth anniversary of late Madan Bhandari, popular leader of the Nepali Communist Party at the Prime Minister's residence, Oli said, "Nobody has openly asked me to step down." But I understand unseen activities. He said that a number of activities have taken place in embassies and hotels. If you listen to the news media from Delhi, you will get a hint. He said that some Nepali leaders are also involved in this game to remove him.
Oli claims Nepal's nationality not weak 
PM Oli claimed that since the constitutional amendment in the Nepali map, conspiracies were being made against him. There is an open race to remove me from the post. Nepal's nationality is not weak. No one thought that a PM would be removed from office to print the map. 
Also Read: Abhishek Bachchan Films: Abhishek does not do such scenes because of daughter Aaradhya, many films went by hand
Power struggle in Prachanda and Oli 




Differences have surfaced during the party's ongoing standing committee meeting between Prime Minister Oli and his opponents, including the ruling party's working president Pushp Kamal Dahal Prachanda. Ollie faced criticism within his party for not attending the standing committee meetings on the first and second day. They attended the meeting for the third day on Saturday, but came only briefly. However, he did not speak at the meeting. 
Being the majority, no one can remove me 
Oli said on Sunday, when I signed trade agreements with Beijing in the past, my minority government collapsed. But, this time we have an absolute majority government. So nobody can remove me. Oli said, we made no mistake by claiming our land. We have had authority over these areas for 146 years. But, this land has been taken away from us for the last 58 years.