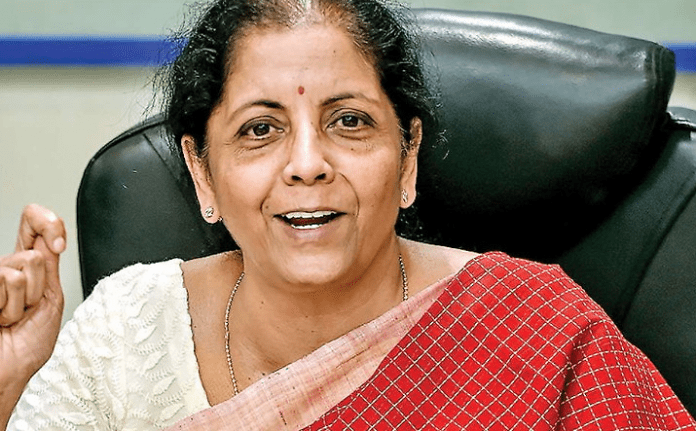 Nirmala Sitharaman gave instructions in a meeting with CEO and MD of public sector banks and financial institutions

The Finance Minister said that the Ministry of Finance has taken several steps to reduce the fear of CBI, CVC and CAG
new Delhi. Finance Minister Nirmala Sitharaman said on Saturday that banks have been instructed to automatically give loans to qualified customers without worrying about the three C's, CBI, CVC and CAG.
He said that in a meeting held on Friday with the CEO and MD of state-run banks and financial institutions, there have been clear instructions that the government is giving 100 per cent guarantee on the loan, so there is no need to be afraid to give loan. He said in a conversation with BJP leader Nalin Kohli. The party has shared this video on the social media platform. 




Finance Minister said 100 percent guarantee
Sitharaman said that yesterday I again said that if the decision to give loan proved to be wrong and it caused damage, then the government has given 100% guarantee. No bank officer or bank will be convicted. So they decide themselves without fear. Loans to those who qualify for additional term loans or additional working capital loans.
Finance Minister told banks- CBI, give loans to eligible customers without being afraid of CVC, the government is giving 100% guarantee. 
Government gave 3 lakh crore package to MSMEs
Also Read: Know who got Rs 20 lakh crore, which schemes got Sanjeevani
Under the self-sufficient India package of Rs 20.97 lakh crore, the government had announced an emergency credit line guarantee scheme (ECLGS) of Rs 3 lakh crore for the MSME sector. The coronavirus crisis has had a very negative impact on the MSME sector.
It is believed that the bank officials are unable to take fair and correct decisions as they are being harassed by three C-Central Bureau of Investigation (CBI), Central Vigilance Commission (CVC) and Comptroller and Auditor General (CAG). is.
Government took steps to reduce the fear of investigating agencies 




The Finance Minister said that the Ministry of Finance has taken several steps to reduce the fear of CBI, CVC and CAG. Under this, many such notifications have been withdrawn, due to which the bank officials got scared. These fears were absolutely justified. In the last 7-8 months, I have met the bank officials at least thrice and said that they should not be afraid of the Three C's.
Finance Minister adopted overall approach to the package
The details of the Self-Reliant India package have been criticized by the Finance Minister, saying that he did not provide any relief for important sectors like hospitality, vehicles and civil aviation sectors. Responding to this criticism, the minister said that the government has adopted a holistic approach, not sector-based. Barring agriculture and power sector, the government has not mentioned any other sector for the reforms.
Other sectors will also benefit from the package given to MSMEs
Sitharaman said that MSME is included in what we are calling the MSME package, other sectors can also benefit from that package. Therefore, the sector you are taking the name of can also benefit from this package.




The package adopts the view that if a company has taken a loan from the bank to a certain extent, or has invested to a certain extent, or has a fixed turnover, then if they are to resume business If you want to take additional term loan or working capital, then they can take it.
Emphasis on digital lending 
The Finance Minister hoped that from June 1, the flow of cash from banks would start without collateral. According to Sitharaman, in a meeting with bank officials, he emphasized that loans should be sanctioned in a simple manner. If possible, loans should be given in a digital way, so that there is minimum contact between people.