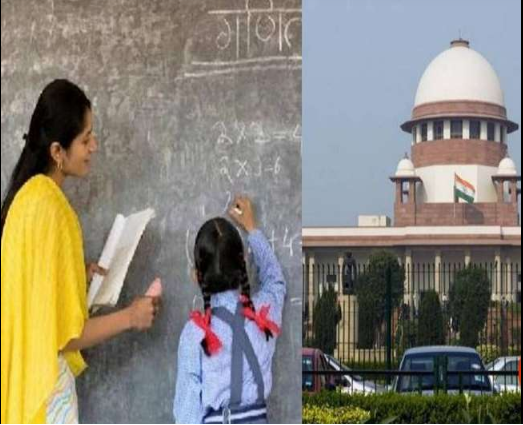 Jagran Bureau, New Delhi. In Uttar Pradesh, there is a ray of hope among the Shiksha Mitras, who are trying to become assistant regular assistant teachers in primary schools and in the struggle. The Supreme Court on Thursday made a notice to the Uttar Pradesh government and other defendants seeking a reply on the plea of ​​Shiksha Mitras challenging the High Court's decision in the Assistant Teacher Recruitment case.
The court has ordered the state government to put the matter on hearing again on July 14, seeking details about Shiksha Mitras appearing in the recruitment examination till July 6. This case is about the recruitment of 69000 assistant teachers in the state, in which the state government has also declared the exam results after the High Court order. A bench of Justices UU Lalit, MM Shantanagoudar and Vineet Saran issued these notices after hearing various petitions filed by the Uttar Pradesh Primary Education Friends Association and other Shiksha Mitras.




The lawyer of the association, Gaurav Yadav, considers the issue of the notice in the case to be a big success, saying that the court has shown prima facie arguments when the court has issued notice and sought details. Changes in eligibility criteria have been challenged in the petitions of Shiksha Mitras, especially after the recruitment examination. It is contended that the minimum qualifying marks were not fixed till the recruitment advertisement and the examination was done, on the second day of the examination, the government changed the rules and changed the minimum qualifying marks of the examination to 65 and 60 per cent which is wrong.
Also Read: Delhi Lockdown 4.0: Advice of a well-known transport expert- 'Metro should run, big question of Rosie Roti'




Senior Advocates Mukul Rohatgi, Gopal Subramaniam, Rajeev Dhawan, Rakesh Dwivedi, Dushyant Dave, arguing on behalf of Shikshamitras, said that in the first examination of assistant teacher recruitment, the recruitment basis was 40 and 45 per cent while in the second exam it was 60 and 65. Was reduced How can it be that one recruitment is on the second cutoff and the other recruitment is on the second cutoff. Initially the court did not agree to consider the case but later agreed and issued a notice.




Education friends demand that the minimum qualifying marks for recruitment should be 40 and 45 percent so that maximum number of assistant teachers can be appointed. The court asked Solicitor General Tushar Mehta, appearing on behalf of the Uttar Pradesh government, to file a reply by July 6 to show how many teachers had scored 40 and 45 per cent or more in the examination. The government should give its details by July 6 and will hear again on July 14.
The court said that it would also consider the aspect of how correct the rules of the appointment process were to change after the examination. Mehta opposed the petitions during the hearing, stating that these people want talented candidates with less talent.