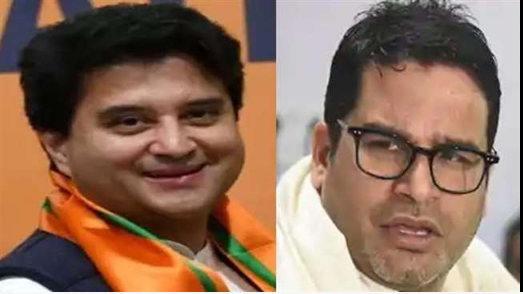 Dhananjay Pratap Singh, Bhopal. In Madhya Pradesh, the Congress is extremely hurt due to the loss of power in just 15 months. To avenge this from BJP and former Union Minister Jyotiraditya Scindia, the Congress is preparing to give a tough fight in the by-elections in 24 assembly constituencies. The Congress, which is preparing for the by-election, has given the task of planning its campaign campaign to Prashant Kishore. Prashant Kishore has played an important role in getting Nitish Kumar to victory in Bihar. Even in the last assembly (2018) election, Prashant was the chief strategist who led the Congress to power.
The party had considered the proposal of three companies to take charge of the Congress campaign. However, the name of Prashant was stamped in it. To encircle the BJP, the war room of the Congress will not be in Bhopal but in Gwalior. The Congress is preparing a strategy to field very strong candidates against the pro-Scindia leaders.
A strategy to surround the veterans,  Ajay Singh from Surkhi
If party leaders are to be believed, then the Opposition leader, Ajay Singh 'Rahul Bhaiya' is being considered to contest the by-election against Surkhi against Govind Singh Rajput, the minister of Shivraj government. Even before this, Ajay Singh left his home constituency and contested from Bhojpur Assembly in 1993 against former Chief Minister Sundarlal Patwa.
uddu against infusion
Also read: On May 22, opposition parties will meet on the initiative of Sonia on the workers' migration-economic package
The Congress is seriously considering fighting former MP Premchand Guddu against another minister, Tulsi Silavat. Guddu has been an MLA in the past, from the Sanveer seat reserved for the Scheduled Castes. He defeated Prakash Sonkar of BJP in 1998 Assembly elections on a Congress ticket. Guddu joined the BJP in the last election. The party gave the assembly ticket to his son Ajay Borasi.




Meenakshi's name from Suwasra
Similarly, Congress leaders are preparing Meenakshi Natarajan from Suwasra seat of Mandsaur to contest the by-election. Meenakshi has also been an MP from Mandsaur. Hardeep Singh Dung, who left the Congress from this seat, will be the BJP candidate in this by-election. Dung was considered to be a supporter of Natarajan.
Congress can field Ramnivas Rawat as well




The Congress is also considering the name of former minister Ramnivas Rawat in order for the top leaders to contest the elections. He can be made a candidate from Pohri or Karaira seat. Ashok Singh is also named from Pohri. He got more votes than Pohri in the Lok Sabha elections. Congress may field strong candidates in some other seats as well. The party is considering to field a Brahmin leader from Badnawar against Kshatriya and Pradyuman Singh Tomar in Gwalior.