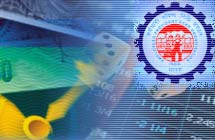 Allows accounts linked with Aadhaar to make withdrawal on self-attestation basis.

The Employees Provident Fund Organisation (EPFO) has simplified the process to withdraw one's provident fund account balance, from multiple forms to a single online form, the Mint reported. This is applicable only to those who have linked their universal account number (UAN) with Aadhaar.



Unlike the previous procedure, the current online form is an amalgamation of three withdrawal forms – Form 19 for final PF settlement, Form 10C for pension withdrawal and Form 31 for non-refundable PF advance. It does not require employer's attestation or details other than Aadhaar, bank account and PAN card number, the report adds.
The process requires nature of withdrawal – buying a house or land, settling a home loan, medical expenditure or marriage in the family, and child's higher education, etc., and one is also allowed to withdraw PF balance a year before retirement.