New Delhi, Business Desk. Indian stock markets opened on Monday, the first trading day of the week with a fall. The Bombay Stock Exchange Sensitive Index Sensex opened 244.32 points down at 34,926.95 on Monday. The Sensex was down 0.61 percent or 215.86 points at 34,955.41 on Monday morning at 9.21 am. In the opening trade, only seven of the 30 stocks of Sensex were seen trending on green mark and 23 stocks on red mark.
This decline in the stock market is seen due to the boom in cases of corona virus infection. Investors have increasingly turned to safe haven investment options in new cases of Corona worldwide.
Sensex shares (9:35 AM)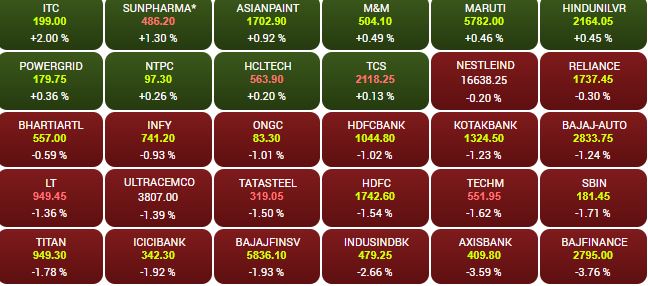 On the other hand, the National Stock Exchange's index Nifty also showed a trade on Monday with a fall in early trade. The Nifty was trading 0.71 per cent or 73.45 points down at 10,309.55 on Monday morning at 9.37 am. At present, 13 stocks of 50-share Nifty appeared on the green mark, 36 shares on the red mark and one share was traded without any change.
Also Read: Redmi 9 will be available for sale from June 30, equipped with strong battery and camera
ty Shares Are (9:40 AM)How the Nif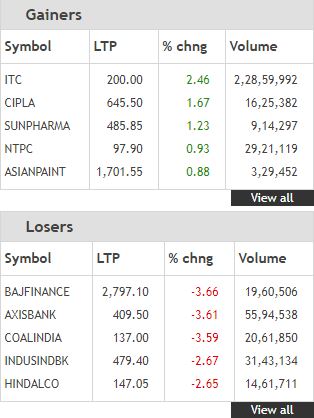 Here is the condition of sectoral indices in early trade




On the first trading day of the week, Monday saw an increase in just two of the 11 sectoral indices and a fall in 9 on the opening trade. Among the sectoral indices, Nifty FMCG gained 0.82 per cent and Nifty Pharma gained 0.78 per cent. At the same time, the maximum decline was seen in Nifty metal at 2.18 percent. Apart from this, a decline of 1.85 per cent in Nifty Bank, 1.62 per cent in Nifty Finance Service, 1.64 per cent in Nifty Media, 1.66 per cent in Nifty PSU Bank, 1.88 per cent in Nifty Private Bank and 0.69 per cent in Nifty Realty.