Kolkata, State Bureau. Mamata Banerjee. Bengal Chief Minister Mamata Banerjee on Friday announced several big discounts to the people after the lockdown ending on 31 May. On Friday, Mamta said that from June 1, all the temples, mosques, gurdwaras and churches in the state will open. Currently, only 10 people will be allowed to visit temples and mosques simultaneously. With this, from June 8, 100 percent of the work force will work in all government and private offices of the state. From June 1, the Chief Minister has also allowed work with 100 percent workers in the jute and tea industry.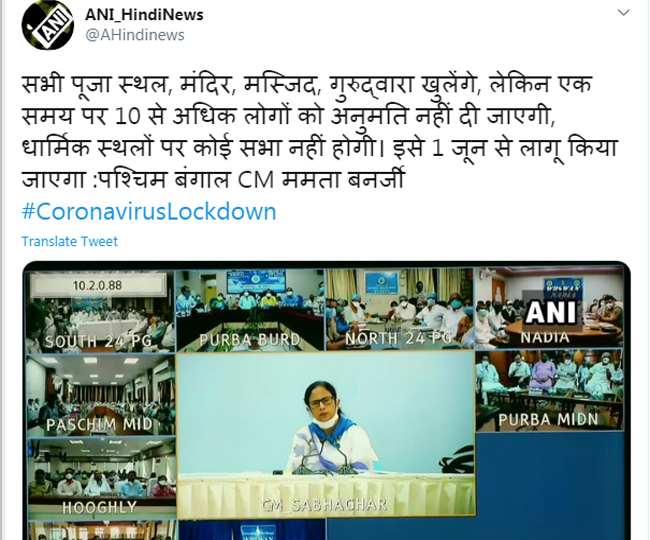 Mamta said that the death toll due to Hurricane Amphon in Bengal has increased to 98.
Significantly, all previous records of new corona cases in Bengal were broken on Thursday. In the last 24 hours, there have been a record 344 positive cases of corona in the state. This is the highest ever in a day. After this, the number of corona infections in the state has increased to 4536 of which 2573 are active cases. This information has been given in the medical bulletin issued by the state health department on Thursday evening. According to this, in the last 24 hours, 6 people have also died in the state from Corona, after which the death toll has increased to 223. In addition, 72 people have died due to other diseases that were corona infected.
Also Read: States Can't Hire Workers From UP Without Permission: Yogi Adityanath
In the last 24 hours, 90 patients have also been discharged from hospital after recovering. After this, the number of people recovering has increased to 1668. The rate of recovery is 36.77 per cent. In the last 24 hours, one person died in Kolkata, 3 in Hooghly and one in North 24 Parganas district. It is noteworthy that a large number of new cases are coming up in the state every day. 208 new cases were reported on Sunday, 149 on Monday, 193 on Tuesday and 183 new cases on Wednesday.
According to the Medical Bulletin, in the last 24 hours, Kolkata has received the highest number of 87 new cases. The number of infected here has increased to 1900, of which 919 are active cases. So far 142 people have died in Kolkata. 55 new cases have been reported from Howrah and 49 from North 24 Parganas. After this, the number of infected here has increased to 911 (564 active cases) and 591 (345 active cases) respectively. Apart from this, 46 new cases from North Dinajpur, 27 from Birbhum, 16 from East Vardhman, 15 from Nadia, 10 from South 24 Parganas, 9 from Malda, 8 from East Medinipur, 7 from Murshidabad, 3 from Hooghly and West in the last 24 hours. 1- 1 new cases have been reported from Bardhaman, Jalpaiguri, Darjeeling and West Medinipur districts.