Women's participation in large listed Indian companies has been rising consistently, data complied by the ET Intelligence Group from the annual reports has revealed. It rose to 23% in FY17 for a sample of 70 companies from 21.6% in the previous fiscal. The sample companies constituted nearly 50% of the total market cap of the listed companies in India.
"Many companies have incorporated programmes to hire women that is creating a sizeable demand. Also, bias against hiring women is abating, which has helped in improving their participation," said Saundarya Rajesh, founder-president, AVTAR Career Creator.
For India Inc, the share of women in the total workforce is the highest in IT companies followed by banking and finance sectors, while it is the lowest in automobiles, metal and mining sectors. IT and BFSI have women participation ratio in the range of 20-36%.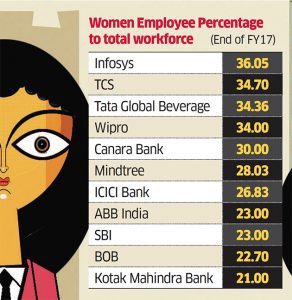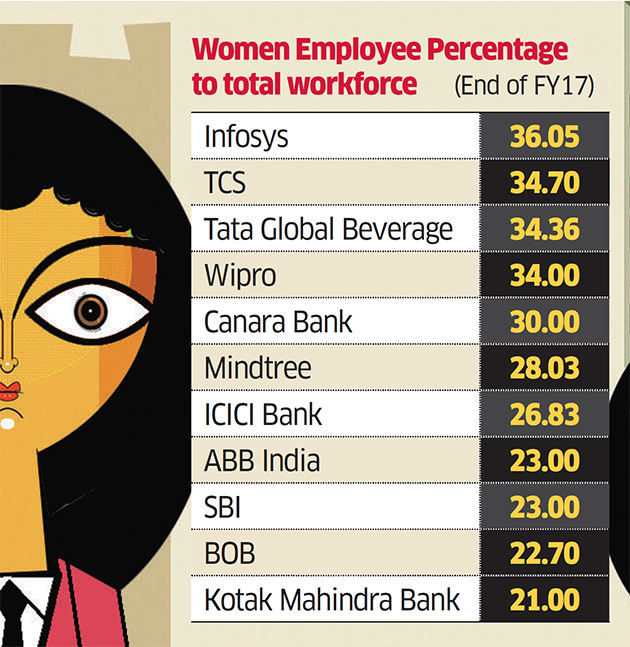 As of December 2017, TCSBSE -0.67 % was the top women's employer with 137,590 women on its payroll, or 35.2% of the total workforce. Infosys reported the highest proportion of 36.1% of women employees in FY17.
According to data from Bloomberg on women's participation in executive roles, Cipla topped the chart with half of its executive team comprising women. It was followed by ICICI Bank (27%) and GSK (26%).
The share of women on corporate boards has also been on a rise, thanks to the enactment of a law that stipulates at least one women director in a company with paid-up capital of Rs 100 crore or turnover of Rs 300 crore.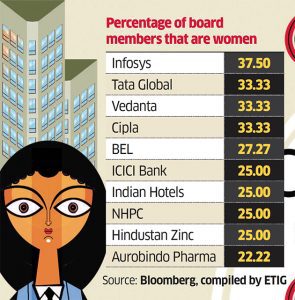 The share of women directors in the Nifty 500 index companies increased to 14% in 2017 compared with 5% in 2012, according to Prime Database. These Nifty 500 companies had 4,750 members on their boards, and Godrej Consumer, Infosys, Cipla, Vedanta and Tata Global BeveragesBSE -1.67 % have 33-46% of their board member as women.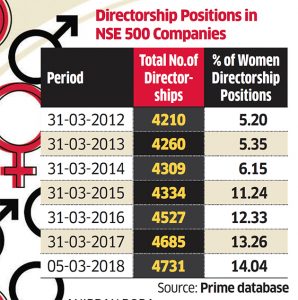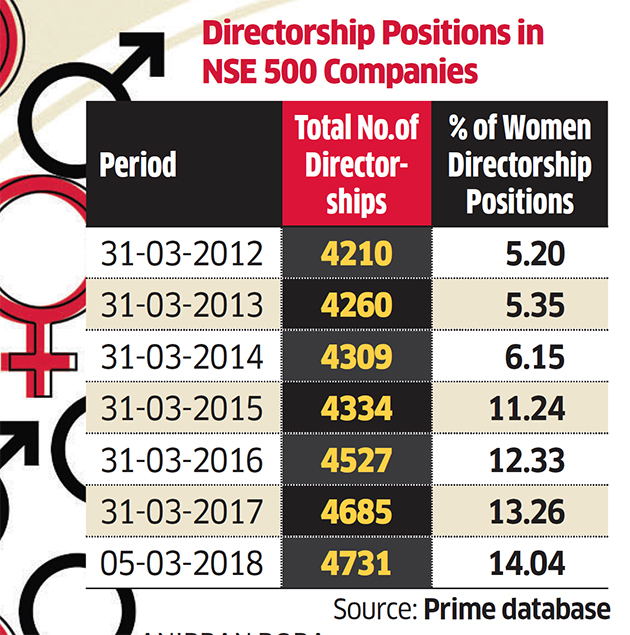 There is empirical evidence showing that companies with women's participation in the workforce report better return on investment. A Citi research report on gender diversity published in 2017 says pursuing gender equality could lift GDP of OECD countries by about 6% over the next one-two decades.