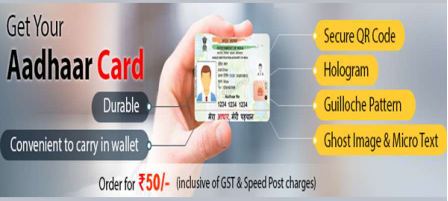 UIDAI update: Aadhar card has become the most important document of identity today. For this it is important that you keep it with you at all times. 
UIDAI (Unique Identification Authority of India) allows all citizens of the country to obtain Aadhar card from its official website. Even if someone does not have a registered mobile number, he can get Aadhar card. People have got a lot of relief from this step of UIDAI.
Here are some easy steps that you can follow to download the PVC card:
Visit the official website of UIDAI at https://residentpvc.uidai.gov.in/order-pvcreprint/. Here click on 'My Aadhaar'.
Select 'Order Aadhaar PVC Card' in the menu and enter your 12 digit Aadhaar number.
Enter the captcha code in it.
Select 'My mobile phone number is not registered' in the options.
Click on any other phone number and click on 'Send OTP'. It can be any mobile number on which you want to receive OTP.
After entering the OTP number, go to the 'Terms and Conditions' checkbox and click on the 'Submit' button.
Now you will see a preview of the letters of Aadhar.
After that check all the information again. Then 'Pay Online'
If you do not want to give your 12-digit Aadhaar number, then you can use the 16-digit VID (Virtual Identification Number) instead. But some things will be visible only on the registered mobile number, without the registered mobile number it cannot be seen. The special thing is that previews can be seen from the registered mobile number only. Users who do not have this number cannot access information related to Aadhaar card.