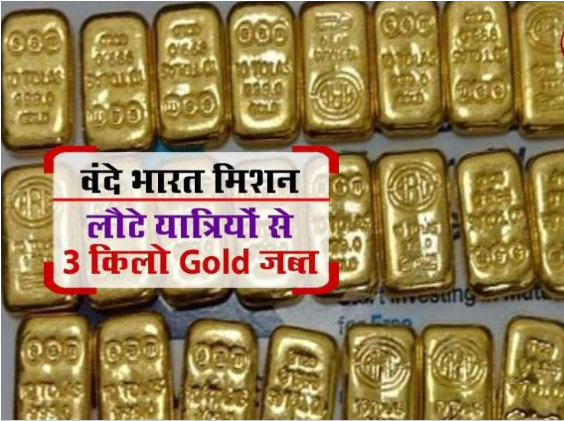 Major action of Hyderabad Custom seized 3.11 lakh gold from returned passengers under Vande Bharat Mission
Gold was hidden in trouser pockets, custom officers searched based on profile
11 passengers arrested for smuggling, seized gold worth Rs 1.66 crore
new Delhi. Under the Vande Bharat Mission, people are constantly returning to India from abroad. But in the meantime, Hyderabad (Custom) Department has seized more than three kilos of gold, taking major action against the passengers returned under the Vande Bharat Mission. In fact, 11 passengers from Saudi Arabia arrived in Hyderabad in a special plane. During the search, customs officials seized 3.11 kg of gold from him (Seized).




The special thing is that all these passengers were trying to hide this gold by making separate pockets in their pants. However, on the basis of suspicion and the profile of these passengers, the custom officers separated them and started searching for them. The suspicion of the authorities proved to be true and 3.11 kg of gold was found from these passengers. All the passengers have been arrested under the Smuggling Act.
Also Read: More Ayodhya Saints to be Invited for August 5 'Bhumi Pujan': Ram Janmabhoomi Trust
This is the whole matter
, the Government of India started the Vande Bharat Mission through Air India to bring Indians from abroad due to Corona virus crisis. Under this, lakhs of Indians have been brought back so far. In this episode, Air India's flight number 1918 reached Hyderabad on 30 July.




During this time, Customs started searching the 11 passengers who returned from the flight, suspecting them and their profiles. During this search, about 3.11 kg gold was found in the pants of these passengers from inside a separate pocket. Which was seized by the authorities.
The price of this gold is said to be around 1.66 crores. Actually, the suspicion was increased by seeing these profiles of the officers. An investigation by the Customs Department revealed that all the accused are involved in smuggling gold. This was the reason that the Airport Intelligence Unit (AIU) from the Customs Department started an investigation to find the main accused of gold.




Let me tell you that in another case recently, officers had recovered about 114 kg sandalwood from a person. A person from Sudan was taking these sticks from Hyderabad to Khorutam. During scanning, these precious wooden sticks were detected in the box. After this, the man was arrested.