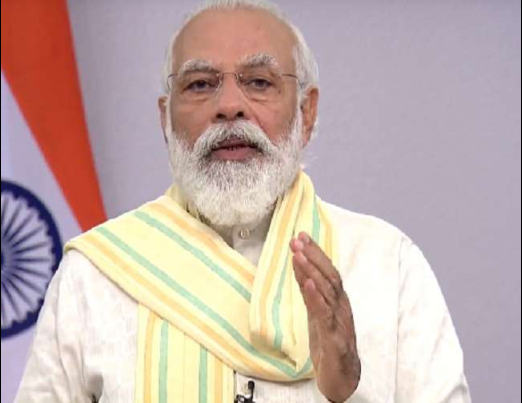 New Delhi, ANI. On the occasion of World Youth Skills Day, WYSD
Prime Minister Narendra Modi extended his best wishes. On this occasion, he emphasized on increasing the skill i.e., skill and said that new skill should not be lost any opportunity to learn. This skill will cooperate like a force in making the country self-reliant. Explain that the Pradhan Mantri Kaushal Vikas Yojana was started five years ago.
Skill mapping portal launched
 Prime Minister Modi said, 'Four-five days ago, a portal for skill mapping of workers has also been started in the country. This portal will play an important role in mapping skilled people and skilled workers. This will enable workers to reach the skilled map workers in one click. Realizing this, now the Ministry of Skill Development has started mapping these opportunities being created across the world. The effort is that the youth of India can get accurate and accurate information about the needs of other countries as well. 




Skill Development Center started 5 years ago
The Prime Minister said that in today's rapidly changing world, millions of skilled people are needed in many sectors. There is a huge potential, especially in health services. For this, hundreds of Prime Minister Skill Development Centers were opened across the country. The number of ITIs was increased, millions of new seats were added to it. During this time skill development of more than 5 crore people has been done. And this campaign continues unabated. Today, understanding the difference between both knowledge and skill in India, work is being done only. 5 years ago, today, Skill India Mission was started with this thought.
Our power of attraction
Addressing the youth section of the country, Prime Minister Modi  said, 'Hello my young colleagues, today is a day dedicated to your skill, your skill.' Prime Minister Narendra Modi said, "This crisis of Corona has changed the work culture as well as the nature of the job, the ever-changing new technology has also influenced it." He said, 'Many people ask me that if there is a rapid change in business and market in today's era, then we do not understand how to stay here. In this time of Corona, this question has become even more important. ' The Prime Minister said, 'Want enthusiasm in life, want enthusiasm, insistence to live, then skill in it becomes our strength of attraction and brings new inspiration for us. Such skills of every kind, small and big, will also become a great power of self-reliant India. 
The mantra given to be skillful
 The Prime Minister said that in response, he gives a mantra 'Skill, Re-Skill and upskill'. He also analyzed it, saying- Skill means, you learn a new skill. As if you learned to make a chair with a piece of wood, it was your skill. You also increased the value of that piece of wood. But these prices remain, for this new design, new style, that is, something new has to be added everyday. For him, he has to learn something new everyday and it means Re-Skill. Knowing, understanding, and following these mantras of Skill, Re-skill and Upskill is very important in the life of all of us. ' 




Also Read: Vikas Dubey's wife and son also came under police arrest, arrested from Lucknow
Do not let the chance to increase skill
Prime Minister Modi said, 'This is the power of skill, from where can a person reach it. Friends, a successful person has a great sign that he does not let any chance to increase his skill. If you do not have any attraction towards skill, there is no desire to learn anything new, then life stops. Feels like a blockage. In a way, that person makes his personality, his personality a burden. He further said, "The attraction towards skill gives you the strength to live, the enthusiasm to live. It is not just a means of livelihood and money. Want enthusiasm in life, want enthusiasm, insistence on living, then skill becomes our driving force, brings new inspiration for us.
Millions of people are getting employment opportunities
Explain that 'Skill India' is an initiative of the Central Government, which started five years ago. The initiative was launched to empower the skills skills of the youth. A total of 92 lakh candidates have been trained under the Pradhan Mantri Kaushal Vikas Yojana and lakhs of people are getting employment opportunities. Pradhan Mantri Kaushal Vikas Yojana is making women lives easier by providing them skills. Every year on 15 July, UN accredited event WYSD is celebrated. According to UNESCO, its aim is to provide employment skills to the youth. At the same time, it is to be made aware of the important role of skilled youth in facing future global challenges.