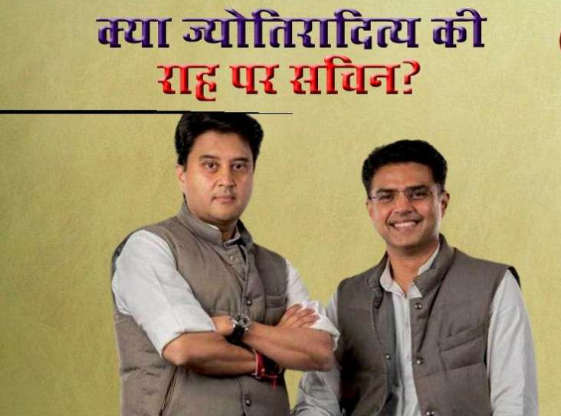 After MP, Congress is now in danger in Rajasthan
State Deputy Chief Minister and Congress leader Sachin Pilot's rebellious attitude
new Delhi. After Madhya Pradesh, the Congress Government (Rajasthan Government) is now in danger in Rajasthan (Rajasthan Political Crisis). The biggest reason for this is the rebellious attitude of the state's Deputy Chief Minister and Congress leader Sachin Pilot. Sachin Pilot has made it clear that he will not attend the proposed party meeting on Monday. Not only this, he openly said that Ashok Gehlot Government is in the minority, because he has the support of more than 30 Congress MLAs and some independents. At the same time, Sachin Pilot's Bharatiya Janata PartySpeculation of joining the BJP has intensified. If sources are to be believed, Sachin can join the BJP on Monday and party president JP Nadda (bjp president jp nadda) will join him in the BJP. Let us tell you that earlier Jyotiraditya Scindia, a former Union minister and a veteran leader of Madhya Pradesh, left the Congress and joined the BJP. Jyotiraditya Scindia and Sachin Pilot are also considered close friends.
Also Read: HongKong's expert escapes, accusing China of hiding information on Coronavirus




Why did the pilot's resentment increase?
In Rajasthan, the trend of political arrogance that has been going on for the last several days is now visible. Pilot has made his point a few days ago to the Congress high command, in which he has made many complaints about Gehlot. There was no hearing on this. Meanwhile, Pilot's resentment increased and came to Delhi with complaints of MLAs not being able to hear themselves, including the SOG notice in the horse-trading case. The pilot did not receive anyone's phone on Sunday. However, there was speculation of contact with his BJP leaders. Meanwhile, the pilot's meeting with Scindia for about a quarter of an hour turned the tide. While many BJP leaders were openly giving statements in support of Pilot, At the same time, BJP leader Jyotiraditya Scindia tweeted that it is sad that Sachin Pilot is being side-lined in this way. In Congress, talent and ability are always put behind. After this, the speculation of Pilot joining BJP intensified. Official sources of the BJP confirmed this in the night and said that on Monday, Pilot can be got a BJP member. Preparations for this have started.
Pilot met Jyotiraditya Scindia




Earlier, Sachin Pilot has also discussed extensively with his former party colleague and friend Jyotiraditya Scindia. The two leaders met in Delhi. The meeting, which lasted 40 minutes, took place at Jyotiraditya Scindia's residence. In the midst of this meeting between the two leaders, the biggest question in the political corridors is that whether Sachin Pilot will also follow Jyotiraditya Scindia and resign from Congress and join BJP? However, no firm information has yet been received about this.
Time to meet Sonia Gandhi
Pilot came to Delhi to meet the interim president of the Congress, Sonia Gandhi. However, he did not get any information from the party high command. Rather, on behalf of Congress, Randeep Surjewala, Avinash Pandey and Ajay Pandey have been asked to go to Jaipur on Monday and hold a meeting with the party MLAs. Meanwhile, Chief Minister Ashok Gehlot has organized a dinner for party MLAs tonight.




'Operation Lotus' will be successful in Rajasthan
Will 'Operation Lotus' be successful in Rajasthan and will this desert state repeat the story of Madhya Pradesh? These are the questions that are being asked the most in political circles at the moment. On Saturday, Chief Minister Ashok Gehlot called a press meet and called the BJP a 'shameless party'. He said that it was a party that was trying to topple the Congress government at a time when it was busy dealing with the Kovid-19 crisis. Meanwhile, Deputy Chief Minister Sachin Pilot reached Delhi on Saturday and after that the speed of speculation increased further.