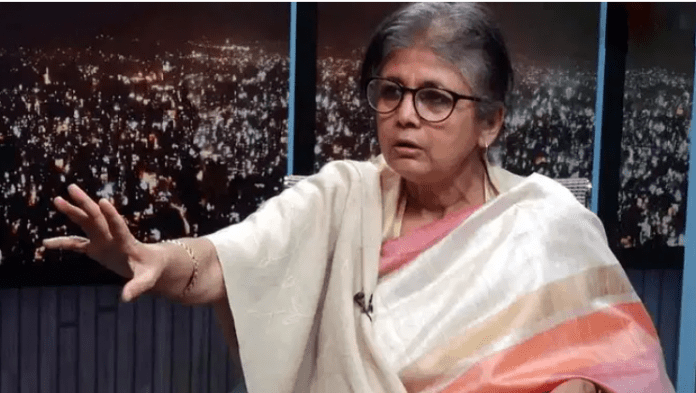 Gopalganj: His mother Gopalganj district is also no less concerned about the termination of membership of Nepal MP Sarita Giri, who raised the voice of India in the House of Nepal. While the family members are angry with the Government of Nepal, people are appealing to the Government of India to stop the hookah-water of Nepal. The Government of Nepal on Thursday canceled the membership of Sarita Giri.
When this information reached Manikpur of Sadar Block, Sarita's maternal home, there was disappointment, but the worry is not less. For the sake of his country, he advocated India by challenging the government in the House. Sarita Giri's father Vijay Bahadur Giri, deputy commissioner of the retiring labor department, is ill. He is proud of his daughter. Worked to repay the debt of his birth land in the House of Nepal. Membership was unlawfully terminated under the conspiracy.
Also Read: UP: Mandate issued for new session and examinations of universities, online classes will start from August 4
Sarita Giri's uncle Chandravansh Giri alias Tunna Giri and brother Nirmal Giri said that in the House of Nepal, they opposed the decision of the Government of Nepal, citing India's daughter-bread relationship. If Nepal wants to break all relations with India, then its hookah-water should also be stopped. On May 18, in the midst of strained relations due to the Indo-Nepal border dispute, Nepal released a map, presenting three parts of India, Lipulekh, Limpiyadhura, Kalapani as part of it, to be passed in the House. MP Sarita Giri, openly opposing the proposal for constitutional amendment, declared it unconstitutional, and advocated its dismissal.
Who is MP Sarita Giri : Sarita Giri is the daughter of Vijay Bahadur Giri, son of Swa Jaleshwar Giri, a freedom fighter from Manikpur village in Sadar block. Sarita is four sisters and one brother Nirmal Giri and uncle is the Senior Advocate of Patna High Court Yaduvansh Giri, President of Gopal Cricket Association Chandravansh Giri aka Tunna Giri, Public Prosecutor Devvansh Giri.