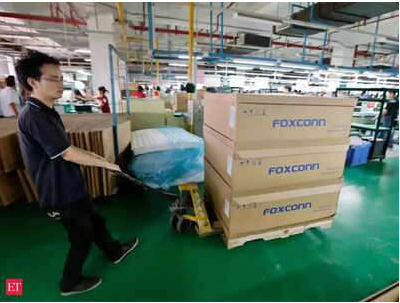 Due to the ongoing trade war between the US and China, it seems that the Apple company has planned to shift its production out of China from China. His signs are also showing. Foxconn, which assembles the iPhone, plans to further expand its factory in India.
New Delhi
There is a big news coming from India-China tension (Apple shifting its production out from China) and Taiwan company is associated with Foxconn. The company is in the process of expanding its factory in India, which is located at Sri Perumbudur near Chennai. For this, the company is thinking of investing around $ 1 billion, or about Rs 7500 crore. Here Taiwanese contract manufacturer company assembles Apple's iPhone




Apple's
company shifting production from China is seen as a move that Apple is planning to shift its production from China, as the trade war between Beijing and Washington has already been sparked by the Corona virus. A source told the news agency Reuters that on behalf of Apple, it has been requested from its clients to shift their production outside China and the effect is also being seen.
Also Read: Vikas Dubey: 'Suspected' daroga said – life in danger, encounter and demand of CBI investigation of Bikeru scandal




these investments will be made in 3 years
Another source said that Foxconn plans to invest in the Sriperumbudur plant, where the iPhone XR model is made. He told that this investment will happen within 3 years. Other Apple models made by Foxconn in China will also be made in India. Foxconn is headquartered in Taipei, Taiwan and the company's move will create about 6000 jobs at the Sriperumbudur plant. Let us know that this company also has a plant in Andhra Pradesh, in which the company makes smartphones for China's Xiaomi company.




got indications only last month
Foxconn chairman Liu Yong Wee said last month that the company would increase its investment in India, but did not provide any detailed information. Apple owns 1% of the total smartphone sales in India, which is the second largest smartphone maker in the world. The Apple company also assembles some of its models from Taiwan-based company Vistron Corp in Bangalore. Let us know that this company is about to start another new plant in which it will make some more Apple mobile phones.